Choose to study abroad in Canada and you will have the opportunity to find very different cultural and natural experiences, from the ski slopes of British Columbia to the Manitoba prairie province, with famous, tolerant and multicultural cities such as Toronto, Montreal, Vancouver and Quebec.
The country has official bilingual status, with English and French used simultaneously in government and official documents.
It is also known for its small population (despite being the second-largest country in the world, it has a smaller population than just a US state, California) and it's harsh winters. In some parts of Canada, snow covers the ground for almost half of the year, but you are unlikely to find Canadian universities in those regions!
Here at StudentGuide, we will explore the best Cheapest universities in Canada, Scholarship in Canada for an international student, How to apply for study in Canada?, How to apply for Canada Study Visa?, Tuition fees and living costs in Canada.
Want to read about other best study abroad locations like a study in Europe then explore our articles to choose which is the best location for your next higher education like Study in France, Belgium, Czech Republic, Estonia, Denmark, Finland, Greece, etc.
Best Universities in Canada 2020
Canada has a well-established position in the world's leading study destinations. The most popular Canadian provinces for international students are Ontario, British Columbia, and Quebec, which include many of Canada's best universities.
For those looking to study at an elite university in one of the most developed countries in the world, applying to study in Canada can be an attractive option. A total of 26 universities in Canada are included in the QS World University Rankings, of which three are among the top 50 in the world, and another 11 among the top 300 in the world, a feat matched by only a handful of other nations.
The two highest Canadian entries are the University of Toronto (28) and McGill University (33), located in Toronto and Montreal, respectively (the second largest cities in Canada). Also among the top 220 in the world is the University of Alberta, McMaster University, the University of Montreal, the University of Waterloo and the University of the West.
Higher Education in Canada
A university degree in Canada can take three or four years to complete, depending on the university. Postgraduate education takes between one and three years to complete, depending on the type of degree. The different types of higher education providers in Canada include universities, community colleges, and technical schools, applied arts or applied sciences. Want to Know Tuition Free Universities in The World Click Here.
Because universities in Canada are managed by provincial governments, you will find small differences in the way education is delivered. Quebec, in particular, is markedly different from the rest of Canada, with different periods of duration and length of the study.
Cheapest Universities in Canada For International Students
Do you want to study in Canada and looking for tuition-free or low tuition fees universities in Canada? Below you find the cheap universities and colleges in Canada is for you! Now, let's look at the summaries of Canadian low tuition fees universities for international students! Check Cheapest and low tuition fees universities in the Czech republic.
Scholarship in Canada For International Student 2020
There are a limited number of Canadian scholarships compared to a large number of American, British and Australian scholarships available for international students. The criterion is also very difficult for scholarships.
It is important that you communicate directly with the schools where you submitted the applications. Some may have international Abroad scholarships or awards for international students who wish to recognize high academic performance, leadership or financial need. Check The Latest Study Abroad Scholarship.
How To Apply For Study In Canada?
When you choose a list of universities to apply for, the next step is to contact the international office of each university, which will guide you through the application process. You must submit a request directly to each institution since there is no centralized application system.
The application process for universities in Canada is generally simple. Most Canadian higher education institutions require the completion of a university degree and, in some institutions, the completion of 40 hours of experience work. International students may also be asked to demonstrate their command of English or French.
For some university programs and for all international students, you must provide an essay, a statement of intent or a statement of personal experience. Other required documents include recommendation letter, extracurricular participation, proof of community service, athletic participation and details of awards and scholarships obtained.
How To Apply For Canada Study Visa?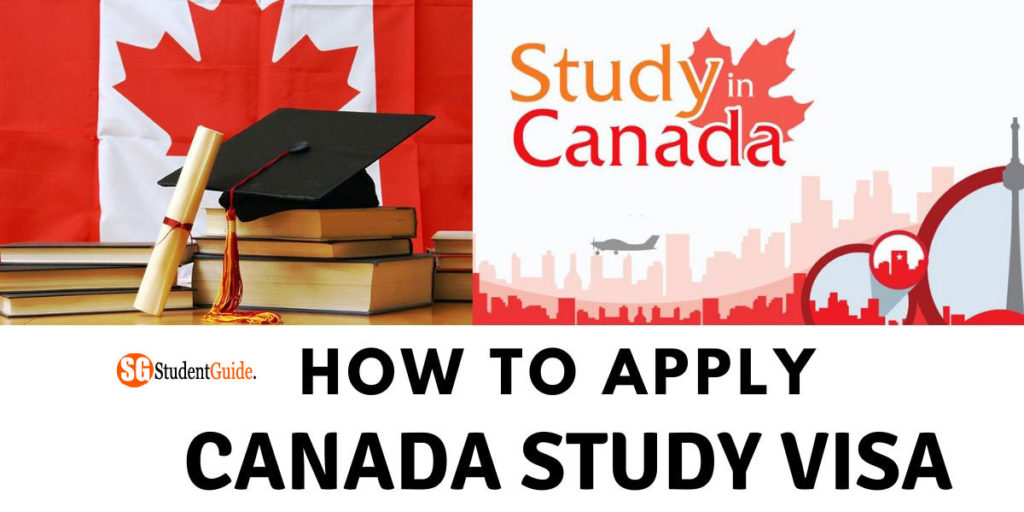 Once you receive the acceptance letter from the university, it is time to continue with the next step: apply for a Canada student visa, known locally as a student permit.
The first steps to obtaining your student visa:
Apply for your Canadian student visa online at the Canadian Citizenship and Immigration (CIC) website before arriving in Canada.
In countries with limited Internet access, it is also possible to apply for a paper visa.
Provide a letter of acceptance from a designated educational institution (a university recognized by the Canadian government).
Provide proof of sufficient financial resources to support your studies in Canada (tuition and living expenses).
Has no criminal record.
Present clinical records that inform you that you are in good health and complete medical exams if necessary.
You can renew or extend your study permit if you wish to continue your studies, if your program has an extension or if you change schools.
The study permit expires 90 days after the end of the study when you receive a notification of completion of the program. You can still stay in Canada to travel and explore or apply for a work permit, which allows you to do a full-time or part-time job, or even work on your own.
Useful tip: make sure your country of origin is on the list of biometrics applications for the study permit application.
Tuition-Free Universities In Canada
In general, tuition fees in Canada are less expensive compared to other major Anglophone destinations (USA, UK and Australia), but even higher than in most other countries. The average tuition cost in Canada for international undergraduate students starts at approximately $ 17,337 (approximately $ 13,350) per year.
Universities in Canada set their own fees, and the cost of studying also depends on the type of course and tuition fees in Canada for arts and humanities students tend to be at the lower end of the scale, with disciplines such as students of Engineering and medicine are most expensive.
This is a complete step y step guide to study abroad in Canada. If you have any questions or suggestion please tell us in a comment. For more study abroad guide keep visiting Student Guide.