Want to study in Belgium with a Scholarship? There are many reasons why the international student wants to study abroad in Belgium: world-class universities, excellent job opportunities to establish international contact, multilanguage cities, and beautiful rich culture, attractive landscape and with lots of natural beauty, high quality of life and, of course, those fantastic Belgian waffles.
World establish political center Brussel capital of Belgium has more journalists and author than Washington DC and home of world-famous international companies and organizations. As expected, Belgium's resident population is also very international, with approximately a quarter of the 11 million population known as 'new Belgians', those from other countries and their descendants, who have become permanent citizens.
If you want to study in Belgium, Here at Student Guide we collect all the information about the best universities in Belgium, Scholarship in Belgium, Tuition fees and Beligum Student Visa and what steps to follow. Read our other Best study abroad Guide Finland, Greece, France, Germany, Spain, Itlay, Hungary.
Top Universities in Belgium
Many universities in Belgium have a strong international perspective and composition, as well as a solid position in the international ranking. A total of eight universities in Belgium appear in the QS World University Rankings®, all but one of the 350 best in the world.
Higher education in Belgium is generally classified into two groups, divided according to the two main linguistic communities of the country: the Flemish community (a variety of Dutch) and the French community. In addition to Dutch and French, Germany is also an official language of the country, although it is spoken by a much smaller percentage of the population.
German-speaking students generally attend a university in the French community or travel to study in Germany. Although French and Dutch are the standard languages ​​of instruction, there are also many international programs taught in English.
#1. Katholieke Universiteit Leuven (KU Leuven)
The best ranked Belgian university is KU Leuven, ranked 71st in the world rankings in 2018. Translated into English, its name is the Catholic University of Leuven, but it is often called Dutch. It was the first university in Belgium, founded in 1425 (although it was closed during the Napoleonic period and reopened in 1834). KU Leuven taught some 57,300 students in 2015, making it the largest university in Belgium.
#2. Ghent University
Ranked in the 125th position in the world, the University of Ghent was founded in 1817 as the first Dutch-speaking university in Belgium. The university is among the top 100 in the world in life sciences and 20 in veterinary sciences. It is another important university, which teaches about 41,000 students in 11 colleges.
#3. Catholic University of Leuven (UCL)
UCL is the largest French-speaking university in Belgium and is located in Louvain-la-Neuve, a planned city that was built to house the university. It has satellite campuses in Brussels, Charleroi, Mons, and Tournai. He is currently ranked 153 in the world and performs particularly well (17) in the ranking of theology, and religious studies.
Check Out Belgium Public Free Universities:
Don't miss our these tuition Free Universities for international student
Scholarships In Belgium For International Student
There are a number of scholarship available in Belgium for international student. One of the best scholarship that itself Belgium government offer to foreign students. Many Belgium university scholarship also offers every year to an international student.
Wel already compiles a list a scholarship in Belgium for international student. This list includes both Belgium government scholarship as well as university scholarship in Belgium. For more scholarship detail please click here. Want to explore other fully funded Scholarship Click Here.
How To Apply Study in Belgium?
To apply for university studies in Belgium, you must have a high school diploma recognized by the relevant authorities or an equivalence statement for that certificate. There is a different authority in Belgium to contact for equivalence documents because it depends on whether you going to apply in the French Community, the Flemish community or the German-speaking community
Applications to study in Belgium are presented individually to each university, and each institution establishes specific admission requirements. In general, those who wish to study medical/dental sciences, arts, business and engineering (only in the French Community) must take an entrance exam. You must also pay your tuition fees before you can register completely.
How To Get Belgium Study Visa?
Before applying for a student visa for Belgium, you must first be accepted in a course at an accredited educational institution and pay the application fees (it will be refunded if your visa application is rejected). If you are an international student, you should contact the nearest Belgian embassy or consulate in your country. The embassy will help you determine if you need a student visa and will guide you through the visa application.
All information on the Belgian visa applications can be found on the Foreign Affairs website of the Office of Foreign Affairs of the Federal Public Service (FPS), available for reading in French, Dutch and English. As an international student, you must apply for a national long-term visa (D visa) that allows you to stay in Belgium for more than 90 days.
The procedure to obtain a visa for Belgium varies according to the consulate or the Belgian embassy you use. However, in general, you must complete a visa application form and submit an application fee along with all required documents (see below). Applicants from some countries may need to make an appointment with their consulate or embassy to request it. It is also possible that some consulates work with an external service provider that performs most of the administrative tasks; In this case, an additional service fee will be charged.
Universities Tuition fees in Belgium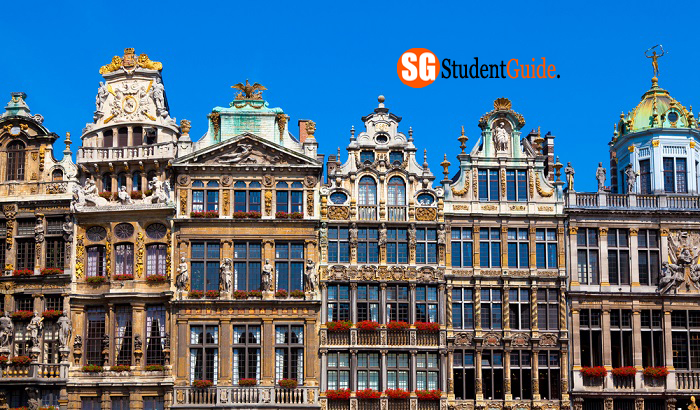 For Belgian students and other EU students, higher education is mainly funded by the state. However, students must pay an annual registration fee for each year of their studies. The amount varies depending on the institution of higher education, the type of program and the eligibility of students to receive financial aid.
Tuition fees in Belgium also differ depending on whether the program is offered by a German or French Flemish community institution. EU students will pay a maximum of € 835 (~ US $ 910) per year, while foreign students from outside the EU will pay € 835-4,175 (~ US $ 910-4,560) and may need to pay application fees additional, again, the amount depends on the institution and the program. You can obtain specific information about the total amount of the rates by contacting the institutions you have chosen.
Living Cost in Belgium
University accommodation in Belgium is generally available for short or international students; However, if you want to rent a private apartment, you must generally sign a one-year lease. Expect to pay between € 150 (the US $ 200) and € 400 (the US $ 540) per month, depending on your preference in university residences or private accommodation, and depending on where you study in Belgium. If you rent your own one-bed apartment, it will probably cost you around € 675 (~ $ 740) per month in the city center, or € 500 (~ $ 550) outside the city center.
This is a complete Step by Step guide to study in Belgium if you need more information regarding study abroad Belgium please tell us in a comment. For more Abroad study guide the opporunity to keep visiting StudentGuide.