Study In Hungary: Connecting Central and Eastern Europe, Hungary combines many of the attractions of both regions, but above all, it prides itself on having its own distinctive identity. This pride is not without foundation. Although Hungary relatively small countries, however, there are lots more to offer international student from capital budget to incredible culture and vine-covered. With natural and artificial beauty and low living costs and cheapest universities, Hungary is one of the main hubs for an international student to study abroad. Choose to study in Hungary now and you can be at the forefront of this trend.
Read on for more information on the best universities in Hungary, the affordable student cities in Hungary, How to apply for Hungary Admission, information on applications, Hungary Student Visa, Hungary Government scholarship and Hungary university scholarship, the Tuition fee in Hungary and more.
Also Check: Why Study In Germany Is The Best Destination For International Student To Study Abroad?
Top Universities in Hungary For International Student
Although not as firmly established on the study map abroad as European destinations such as the United Kingdom, Germany or France, Hungary is committed to becoming an important center of higher education. Universities in Hungary are attracting a large number of international students, both in exchange programs and in full degrees, and are increasingly offering courses taught in languages ​​other than Hungarian, more commonly English.
According to Hungary Bologna Process which the main objective to increase education standard in Hungary offer three types of degree level to international student: Bachelor/undergraduate degree, Master/graduate degree, and Ph.D./doctoral degree.
Six universities in Hungary appear in QS World University Rankings®, while a total of eight appearances in QS EECA University Rankings 2018. The top three universities in Hungary are:
Also Check: Study in Italy: Scholarship, Low Tuition Universities, Student Visa, Living Cost
#1. University of Szeged
The best-qualified university in Hungary, Szeged University, is currently between 501-550 in the QS World University Rankings and 27 in emerging Europe and Central Asia. Wishing to receive international students, the university participates in the Erasmus exchange program and has scholarships available for international students in all areas.
Most courses are taught in English, and some bachelor's degrees include a preparatory English course. The University of Szeged is also among the 450 best in the world for six subjects in the 2017 World Ranking of QS Universities by Subject 2017, including a place among the 200 best for agriculture.
#2. Eötvös Loránd University
Eötvös Loránd University is one of the largest and oldest universities in Hungary located at the capital of Hungary Budapest. Eötvös Loránd University ranked between 651-700 in QS world universities ranking. It is also one of the oldest, created in 1635. Eötvös Loránd's students include four Nobel Prize winners and many world-famous scientists. The university currently educates about 28,000 students in its eight colleges, including 2,000 international students.
#3. University of Debrecen
The University of Debrecen has ranked 651-700 in the world rankings and 35th position in the EECA region since 2018. Its main campuses are located in the second-largest city in Hungary, Debrecen, in the east of the country. Debrecen University welcomes international student all around the world and offers many courses in English. It is among the world's leading institutions for six subjects in QS World University Rankings by Subject, including the top 300 global positions for agriculture and forestry, medicine and modern languages.
Other Well-know Universities in Hungary For International Student:
Corvinus University of Budapest
Budapest University of Technology and Economics
Eötvös Loránd University
University of Pécs
Semmelweis University
Franz Liszt Academy of Music, Budapest
Pázmány Péter Catholic University
Szent István University
Szent István University
Also Check: Three-Way To Study In the USA For Free For International Student
Scholarship In Hungary For International Student
Every year Hungary Government and universities in Hungary award the number of fully-funded scholarship for international student. These scholarships generally cover tuition fees, accommodation, living expense and study material. Check below Hungary scholarship.
#1. Government Of Hungary Scholarship
The Hungarian government is pleased to apply for the Hungarian government scholarship 2020-2021. Qualified people can send their applications. This is in collaboration with the FAO of the Food and Agriculture Organization of the United Nations. The scholarship is designed for students from selected countries who are pursuing a master's degree in science for the 2020-2021 academic session in Hungary.
#3. Stipendium Hungaricum Scholarship
Thousands of students from all over the world apply for higher education in Hungary every year. The number of applicants for Stipendium Hungaricum increases continuously, as does the number of vacancies available. In the 2019/2020 application round, more than 4,500 scholarships were awarded and we currently have more than 7,000 students studying here with the Stipendium Hungaricum scholarship.
In the 2020/2021 academic year, more than 5000 students can begin their studies in Hungary under the Stipendium Hungaricum Program.
Other Hungary Scholarship for International Student:
Also Check: 5 Free and Low Tuition Fees Czech Republic Universities + Czech Scholarships
Hungary Student Visa or Study Visa
EU / EEA students do not need a visa to study in Hungary but must apply for a residence permit within 15 days of arrival. Students from outside the EEA must apply for a student visa residence permit before arriving at the nearest Hungarian embassy. The application must be submitted at least six weeks before departure, as processing is likely to take at least one month.
Student visas for Hungary require the following:
Passport (valid for at least six months after scheduled departure)
Two passport-sized photos
Application Form Completed
Proof of health insurance for the entire duration of the stay
Proof that tuition fees (or exemption certificate) have been paid
Proof of sufficient funds to cover the cost of living in the form of bank statement
Official acceptance letter from a Hungarian university
Accommodation
All international students must register their place of residence with the local authorities as soon as possible upon arrival.
Also Check: Canada Study Visa: How To Apply For Visa, Requirement, Process – Candian Study Permit
Living Cost in Hungary
The cost of living is relatively low in Hungary, and students are likely to need around $ 600-850 per month to cover everything from accommodation tonight outings (~ $ 7,200 to $ 10,200 per year). The cost of living will be more expensive in Budapest, where the rent will start from $ 340 per month. You can get a rough idea of ​​how your living costs work based on your accommodation, transportation and city preferences here.
Also Check: Finland Study Visa: How To Apply For Residence Permit, Requirement, Process
Tuition Fees of Hungary Universities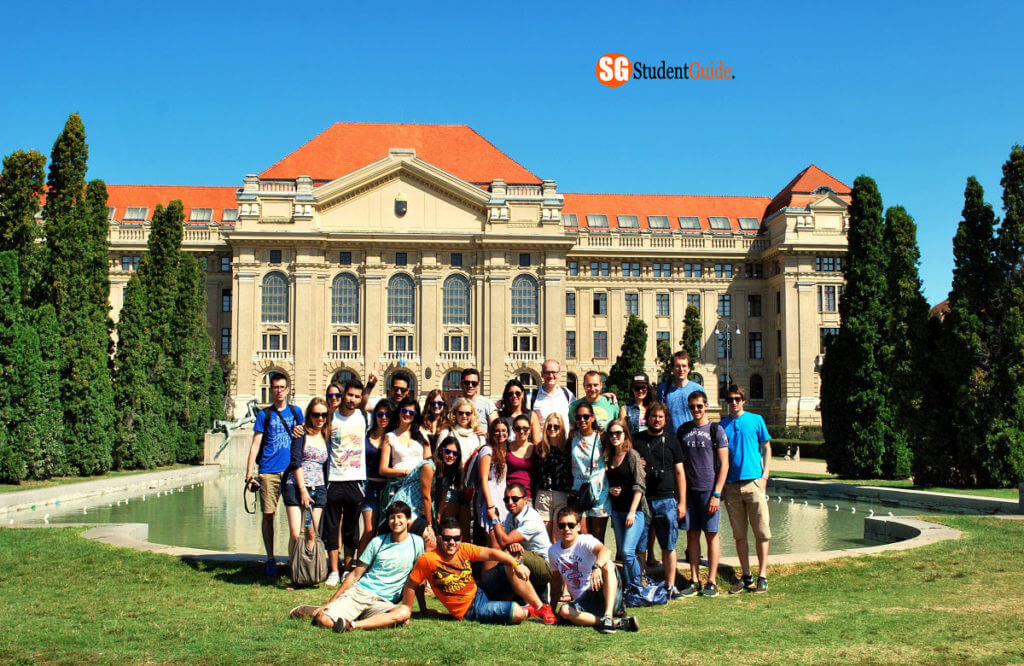 Although the rates are not insignificant, they are much lower than those charged in countries such as the United States or the United Kingdom. They range from universities to courses, with some courses of up to $ 5,500 a year at the University of Debrecen, up to $ 14,000 a year to study a medical course in English (plus $ 500 in registration and entry fees).
Also Check: Why Should I study abroad? Benefits & Advantages of Studying Abroad
This is a complete guide to study in Hungary. If you need additional information regarding the Hungary scholarship, Universities tell us in a comment. For more latest article and scholarship update keeping visiting StudentGuide.me