I started writing on Medium on March 25, 2018, after someone recommended that I try posting on Medium to drive traffic to Student Guide.
All I did was republish my Study abroad guide and write another short post on how to earn money.
I am writing this article to share that, in 24 hours, I earned $ 100.00 for republishing my content on the Earn online money:
Over the proceeding months, I also continued to earn money for my Medium writing, and recently passed the $ 1,000 mark and now earn passive income each month from my articles:
If you have ever wondered how you can earn money writing, I am here to talk about Medium.
Let's start.
What Is Medium?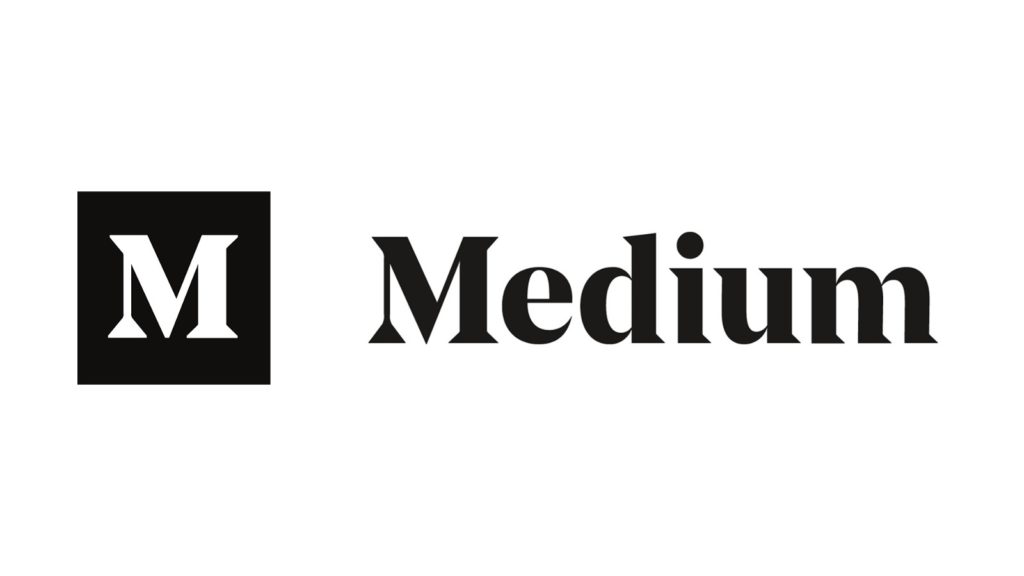 If you haven't heard of Medium, I can only describe it as one of the easiest minimalist blogging platforms out there.
Medium is a publishing platform created by Evan Williams, former CEO of Twitter, and officially launched in 2012. The platform offers editors and bloggers to share their work or create new articles entirely.
In short, the Medium platform is one of the simplest ways to blog or read great content.
The most popular Medium topic (as seen on the home page) include:
Technology.
Culture
Entrepreneurship
Creativity
Self
Politics
media
Productivity
How does the medium make money?
If you want to understand how a platform can pay, it's generally helpful to understand how they make money in the first place.
With Medium, users can read up to 5 articles per month. If readers want to take advantage of any content beyond that limit, they must become medium members for the price of $ 5 / month.
Interestingly, traditional advertising practices have not been very successful for Medium.
Between compromising on quality and minimalist design, populating the platform with banner ads is simply not an option.
Thus, Medium ended up relying on monthly subscriptions and fundraising rounds to power its platform so far.
It will be interesting to see Medium move forward as a company, and I am very curious to see how they will monetize their platform.
For now, though, it's all about the quality of the content and members of Medium.
Making Money on Medium
By subscribing to the Medium Partner Program (free and open to the public), you can start earning money from your Medium content.
When Medium Members clap, part of their $ 5 monthly subscription fee is paid directly to the author.
Because clap payments are a fraction of a user's $ 5 / mo subscription fee, users who clap very often have lower payment clap than those who clap only a few times a month.
This means that a clap generally ranges from $ 0.01 to $ 1 to $ 2, depending on who is viewing and clapping your article.
How Earning On Medium Works
In October 2019, Medium made some changes to the way authors are paid, so it dismisses most of what I just said about the clap.
According to Medium, payments are now calculated based on reading time, not clap.
While clap can still help authors broaden their reach and indirectly earn more for their stories, increasing overall engagement in their stories is now the name of the game when it comes to making money by writing on Medium.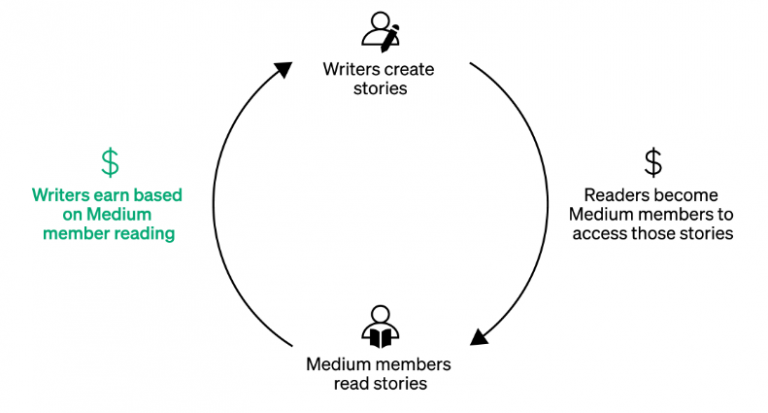 The reading time of non-members will also be taken into account if they become members within 30 days of reading their stories.
Also, earnings are now updated daily, not weekly (thank goodness), and stories have more detailed metrics to detail their earnings stats.
Overall, this is a set of big changes, as it makes it easier for smaller authors to earn money by writing on Medium.
So if you want to boost your earnings on Medium, focus on sharing your stories through social media channels and turning new Medium readers into paid members, as well as increasing your reach on the Medium platform.
Author Bonuses
I made $ 100 in 24 hours after posting my earn money guide on Medium due to a partner bonus:
Earning bonuses for blogging on Medium is a relatively new concept, but certainly exciting.
In March, Medium announced that it would pay bonuses to medium partners for quality work.
You shouldn't rely on average bonuses as a reliable source of income, as average publishers will reward just a few dozen stories per week, as explained in a partner program email:
However, you have to admit that if you want to make money writing, choosing a platform that actively rewards quality submissions should seem like a no-brainer.
Finally, it's really promising to see Medium striving to reward quality, pay authors, and encourage engaging content.
Here are other average stats included in the March partner program email:
48% of authors or posts that wrote at least one member story made money. The average value obtained in the month was the US $ 77.04.
$ 7,924.22 was the most earned by an author and $ 2,400.40 was the most earned by a publication.
$ 1,744.21 was the most earned for a single story. 10.6% of the stories that made money earned more than $ 100.
The fact that a single story on Medium earned $ 1,744 blows my mind. And a single author earned $ 7,924!
Just Note: To join the Medium Partner Program, you will need to provide Medium with your INS (or other forms of government-issued identification) as well as your bank account information (transit number, account number, branch office).
Benefits of Medium
I like to write on the Student Guide because it is my own platform. I write about what I want, choose my own design, and make decisions about how to monetize the site.
You have no control over Medium.
However, the traffic you can generate by writing on Medium is huge.
According to Alexa, Medium is the 92nd most popular website in the world in terms of traffic and ranks 37th in the United States.
Medium also attracts over 60 million monthly readers, and while its algorithm is not fully understood, it is clear that Medium is a powerful blogging platform with incredible potential.
Here is a snippet from my medium stats: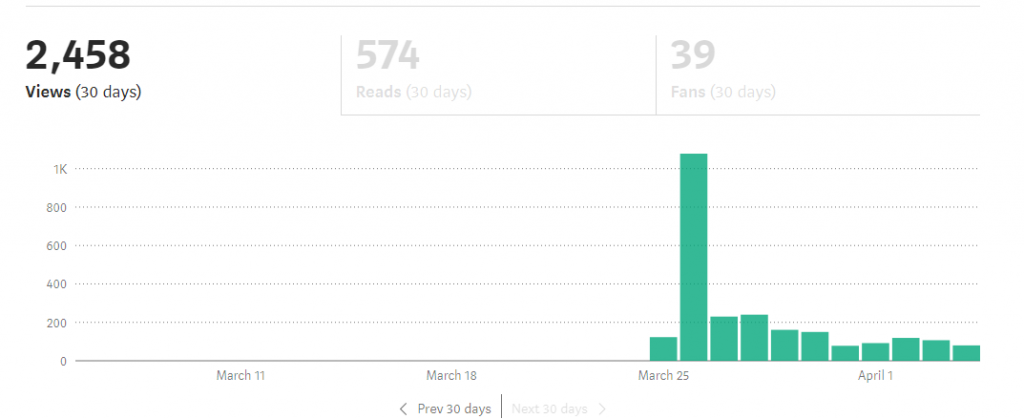 When examining a breakdown of referral traffic to an average article, a few things are also apparent: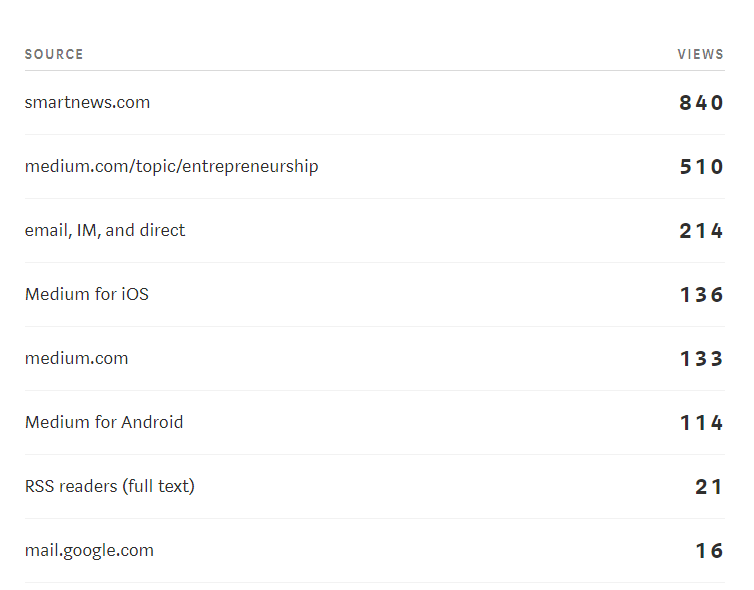 As you can see, various referral sources contributed to the views on my earn money guide and provided a noticeable increase in views.
Medium even brought the content to more readers, featuring the article's trend in the entrepreneurship section of the website.
For bloggers just starting out, it's hard to compete with Medium's algorithm and lots of monthly traffic.
However, blogging on Medium allows content creators to take advantage of Medium's monthly traffic and target audience.
You can also take advantage of Medium without sacrificing your own site's SEO profile.
Importing Stories to Medium
The medium allows bloggers to import past stories to their platform, allowing them to stay in control of their content (on their own blog) while benefiting from Medium's huge amounts of monthly traffic.
In that sense, it is the best of both worlds.
Importing content to Medium is really a form of content organization – the process of making existing content available on other platforms.
However, when you import a story into Medium, they add the extremely crucial rel = canonical tag.
This tag essentially informs Google that your original article maintains maximum authority over the site that hosts imported content. This means that Google will prioritize your blog on SERPS, not Medium.
Considering the use of the rel-canonical tag, there is no reason not to import your blog posts into Medium.
You can earn money, increase reach, and even increase your blog in the process, as your Medium followers hit your original blog.
My Suggestions
I admit that after making $ 100 in about 24 hours after posting my first Medium post, I was wondering why I am writing on the Student Guide.
But in the end, it is rewarding to have your own Internet corner.
If you are a fellow blogger or writer who has their own website (or plans to start one), be sure to write.
Medium offers bloggers an incredible amount of traffic and earning potential, but that doesn't mean you have to sacrifice content creation for your own website.
The ability to import your best articles into Medium already allows bloggers to establish a presence in Medium. Also, if you have another article or series you always wanted to write outside of the current site topic/niche, just post it to Medium.
In summary, here are my suggestions for using Medium in conjunction with your own website:
Create a professional Medium profile: include your photo, credentials, interests and why you write on Medium.
Import your best items: start by importing one item or 2 for Medium.
Play around with the algorithm: If some of your work doesn't get views after a few days, delete the story and import it again. The media don't care if you do, and republishing a story can put it in front of the right eyes.
Treat Medium like a partner blog: don't be afraid to link to your own blog/website or other great articles on the web. The medium doesn't like overly pushy affiliate links or tons of links in general, but you can get away with some.
Test and retest: I am still learning to use Medium. However, like any learning process, it needs to do a little work. Monetize some of your stories … leave others free to watch. Comment other stories or clap the authors. Write a variety of content, test your images, titles and headlines. Find out what works for your writing and audience topic.
Medium Publications An Opportunity To Increase Reach
If you're having trouble getting views or making money from writing on Medium, you can also contact various Medium publications and request to write for them.
Medium has an incredible number of popular posts, and many of them regularly accept guest writers or regular contributors.
Currently, I can contribute to three different publications and I did not have to subscribe to two of them (one of the editors contacted me by email asking me to share part of my work).
The best part of writing for Midsize Publications is that you can still make money from your work, even if your story is unionized (like most of mine).
A Few Things
First off, I think it's great that Medium pays its partners. If you want to earn money writing and don't worry about having your own platform, accelerate thoroughly.
Medium is making an effort to reward great writers, and this is shown in gestures such as their bonuses or in the high percentage of writers who currently receive their payment.
If you only want to write, because sharing your ideas with others brings you joy, I also tell you to try Medium.
Medium is one of the easiest blogging platforms in the world, and the ability to follow writers and clap stories encourages discussion.
However, I also encourage people to remember that things can change.
Medium has had two changes to the business model from the start, and while I love the platform, Medium's writers can't control how the platform will be monetized.
Going forward, I think it's important that content creators don't put all their eggs in one basket.
So write on Medium, start a blog, or start another online business. Regardless of what you decide to do, be sure to enjoy the process.
Final thoughts
At the end of the day, you can earn money on Medium and also use the platform to promote your other sites/companies.
It just takes time, patience and work (like everything worth doing!)