As the Internet landscape evolves over the years, there is something I am noticing. The need for visual content is growing and I think the demand will continue to grow in the future. This article explains How to earn money by selling photos online.
We are becoming a more visual society and telling interesting stories online is increasingly dependent on photos and videos. If you consider yourself a visual content creator and you're good, there is a market for you to earn money by selling photos.
There is a market to sell your photos:
Niche Websites / Blogs
Local or national companies
Creative / Marketing Agencies
Photography sites
On your own website / online store (Etsy)
Whether you want to toss aside smoothie, start your own business, or just earn some extra cash, you can combine your creativity with the demand and earn by selling photos.
What we are covering:
Equipment to start product photography
Types of the picture to take
5 Ways To sell my photographs online
8 good places to sell photos
Let's start with the right equipment you need to get started.
Buy The Right Equipment For Selling Photos
If you don't have the right equipment, you won't be able to take professional photos.
Consider buying an investment for the equipment, if you want to see this project. It is possible to take amazing photos with an iPhone, but it is not the most professional option.
You want to control more settings like aperture, shutter speed, and ISO. Another problem with phone cameras is that the zoom function is not as reliable as a professional camera. Smartphones typically have digital zoom, while a professional camera is an optical zoom.
How To Buy a Professional Camera
It is important to invest in a professional camera. The most common type of camera is a DSLR camera, which stands for "single lens digital reflection." There are kits online that you can look to buy all the necessary essentials at once.
The most popular camera manufacturers are Canon, Nikon, and Sony. So if you want to make money and not get stuck with a bad camera, I'd suggest sticking with name brands.
Research the type of camera that works best for what you want to do and take it one step at a time. Depending on the type of package you buy, your camera and lens may be sold separately. But that's why we are, it must be a great starter pack to help you quickly.
Check out the kit here on Amazon.
Extra Equipment To Buy
Here's a list of "required" items to get started: go
Camera lenses (between 24mm and 150mm)
Stable tripod (aluminum, swivel)
SD cards (32 GB minimum)
Light shop / box
Photo backgrounds
Portable lighting
By no means do you need all this equipment to get started, but it's good to know what you could use for different types of projects.
People tend to get excited when they start taking pictures seriously, but you can do it step by step. You can spend a lot of money on lenses and tripods, or you can get equipment that works and gets updated later.
Something you should buy 100% is various memory cards and a hard drive to store all your photos. The last thing you want when editing photos is to lose your data.
Therefore, it is helpful to back up all of your work so bad things don't happen. SD cards and computers are damaged, so a backup is required.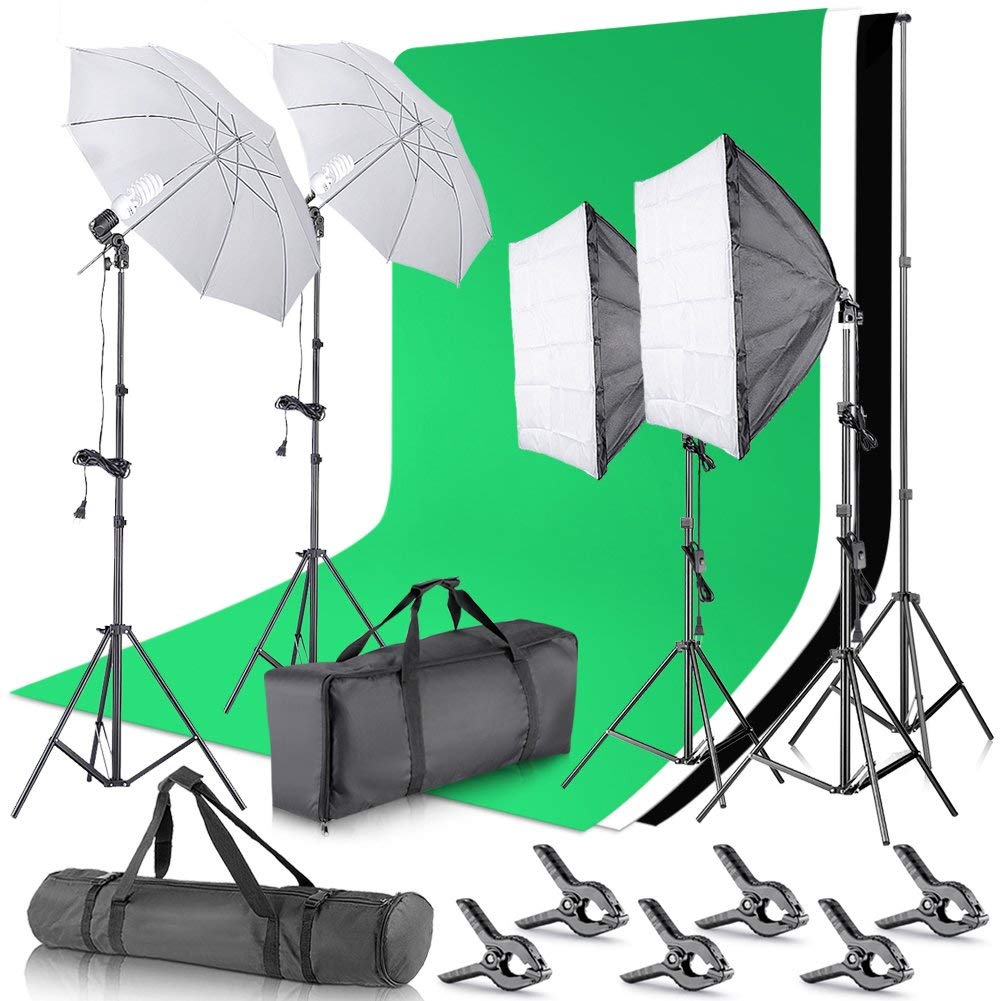 Finally, lighting and background are something to think about, because you want to eliminate glare and shadow from your photos. The lighting kit shown above is for beginners and has the essentials for taking professional photos at home.
Types of Pictures to Take
The websites are becoming the largest online photography market. Which makes sense because websites are getting more visual with their design. As content, in general, is becoming more visual, website owners are looking not only for images to accompany their design but also for images to accompany blog posts.
It's an endless struggle for website owners and bloggers to find photos that don't look sticky in their articles and websites. Specialized website owners, in particular, have a hard time finding photos that can speak directly to the public without looking boring. Here are some topics that can make you think a little about the audience:
Animals: rabbits, snakes, rats, lizards, birds
Musical instruments, studies, microphones, technology.
Medical devices, doctors, nurses, signs, supplies, and decorations.
Cars, auto parts, automotive equipment
Outdoor environments, external equipment.
Here are some resources that can help you see what types of specialized sites exist that need photos:
Think about this…
What are the topics or things that interest you? Because if you are interested in something, there is a high probability that there are sites on those topics. And your success depends on doing something you enjoy while adding value.
It is impossible to take photos of everything and everyone. By specializing in specific industries, you can take better pictures that people are more likely to use.
Don't be in a hurry and experiment to find out what you like to photograph. Then look for sites that can use your photos. I guarantee that website owners are always looking for good images for the website.
Ask yourself if there is a way to fill a gap and add value to the people who manage these sites.
How To Sell More Photo Online
You can sell your photos as physical products, calendars, mugs or anything else you can imagine. Or you can sell the photos on websites so that others can use them as designs that they can sell.
People are always looking for exclusive images for creative projects and you can help them with that.
Take a look at these sites:
The reason these sites are different from the sites mentioned below is that they are additional ways to earn money and expand.
Join Facebook groups
Here's a trick that nobody talks about. There are Facebook blog/niche groups filled with hundreds of thousands of people talking about everything related to their business.
Now, imagine you joined these groups and made posts on how to take amazing photos for your blog. Or about resources to find the best photos for your blog and Pinterest. I guarantee that people will make you the most important person in photography.
Being useful in this way is how you can promote yourself without actually promoting yourself. You will be able to understand what your potential audience wants and what they want to learn. So when you need photos, you can be there to offer your services.
Let's start selling photos online:
Best Website For Selling Photos Online And Earn Money
There are many different websites to sell photographs. With these sites, the terms generally allow multiple people to purchase the photo. Generally, you receive a small amount for each person who purchases your photo. This makes it a great way to earn residual income.
1. iStock photo

The iStock photos were purchased by Getty Images and are great to start with. Its platform will show which images are selling well and indicate the correct direction to make more sales. The registration process is simple.
First of all, go to gettyimages.com/workwithus and they will ask you to download the app and join the community of creators.
These are the steps directly on the website:
To apply, download the Getty Images Contributor app.
Share 3-6 samples of your photos, videos, or illustrations (video uploads will need to be uploaded to YouTube for review).
We will review your samples and inform you if you have accepted Getty Images or iStock by Getty Images.
You must be at least 18 years old to apply.
2. Adobe Stock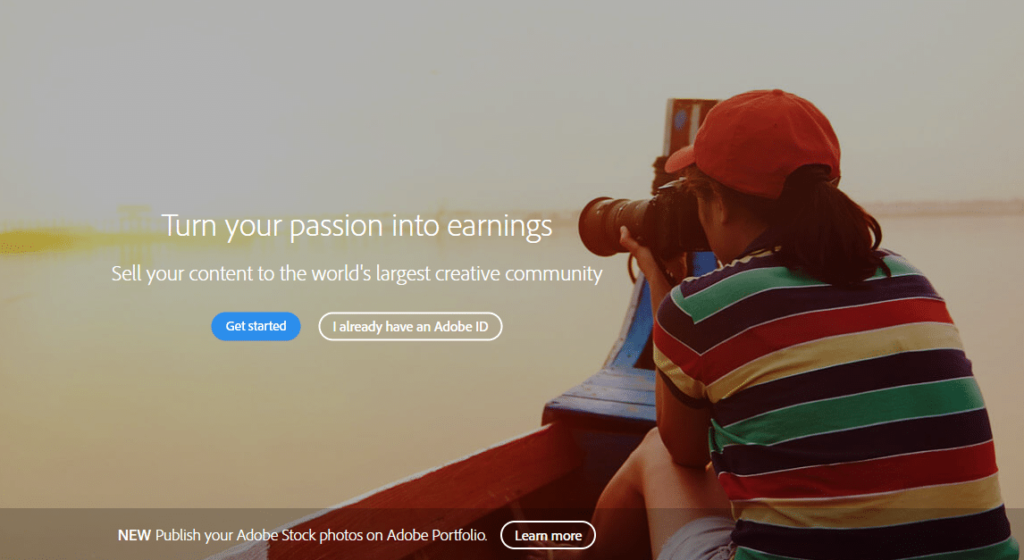 Adobe Stock is a platform that is part of the Adobe toolkit to help you edit any type of creative asset you can imagine. They are the creators of the world's best-known editing software (photoshop).
To register and sell on the Adobe Stock Market, you must go to contributor.stock.adobe.com and create your new account for free.
Adobe Stock even has a new tool that allows you to quickly tag photos after uploading, based on Adobe's recommendations. That way, more people can find your photos and you can earn more money:
"Every time someone buys your content, you get a 33% commission for photos and vector art and a 35% commission for videos based on the price of the image. You can request a payment through Paypal or Skrill when you have reached at least $ 25 in royalties. "
It is a great place to start and see what types of images work well online.
3. Shutterstock
Shutterstock is one of the most popular imaging sites. From the beginning, they have paid more than $ 500 million in photographic royalties to the creators and there are no slowdown plans.
They have a section where they report every month on the most requested images. That way, you can go out and take photos that you know how to sell. It is immense to know the analysis, so you do not waste time taking photos of things that will not generate money.
Shutterstock also offers additional markets where you can earn more money. And everything is in your network.
If you want to try Shutterstock, visit submit.shutterstock.com
4. Alamy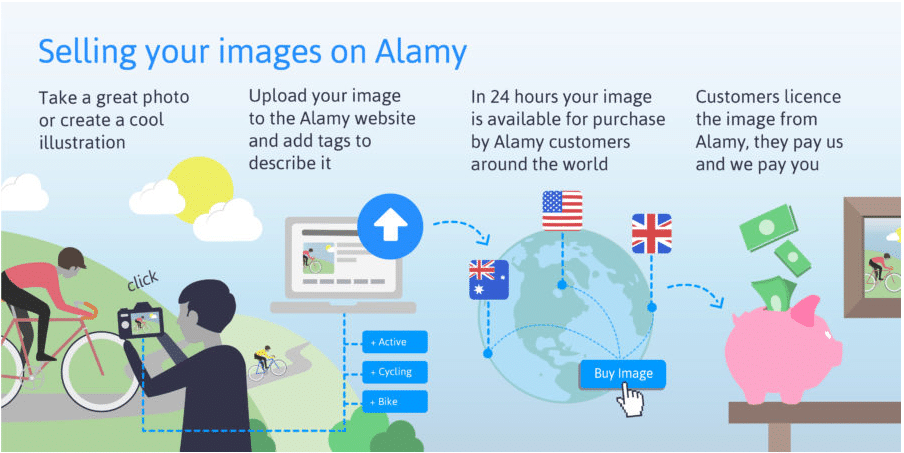 Alamy has two different commission structures.
50% split commission for exclusive images
40% startup for non-exclusive images
This commission structure is one of the best on the market. There are over 180 million photos on the platform today and always growing. The best thing about this site is that if you don't want to give Alamy exclusive rights to your photos, you can sell them on other platforms!
To become a partner, simply access this registration form and get started. Click here.
5. Etsy
Etsy is known as a website for buying and selling handmade products. But it is expanding and offers creatives the opportunity to earn money and sell exclusive products. It is a place where you can sell art and photography. And something unique about Etsy is that you can sell items to print. It means things that people can buy and print on their own or in a store.
With Etsy, you control how much you sell and get a bigger cut in profit. Etsy requests a listing fee of $ 0.20, a sales commission of 5%, and a processing fee of 3% +0.25. The rest of the recipe is yours. However, the onus is on you to get customers from your store.
Once you start selling on the platform, there is a manual to guide you through the process of selling and growing your business. Check it out here.
6. Photomoto
Fotomoto is not a traditional online market, but it helps photographers to sell photos. The purpose of using a photomoto is to provide your personal website with the functionality to sell photos.
Registration is fast and there is no confusing setup process. You can configure your packages and take the widget code to place it on your website. It is very direct. There is a free version of the software that allows you to pay a commission to Fotomoto when making a sale. That way, you don't have to pay a monthly fee until you make sales.
7. 500px

500px is one of my favorite sites due to its functionality. The royalty structure has changed over the years and has decreased, but payments remain high. They are currently giving up to 60% in royalties.
After creating an account and starting to upload photos, you can make them available for the commercial license. This means that you can potentially see your photos used by major named brands.
Another advantage of working with 500px is the association with Getty images, which is without a doubt the world's largest place to find photos.
Its price structure is also competitive.
Awesome ($ 2.99 per month)
Pro ($ 4.00 per month)
Pro and Adobe ($ 11.99 per month) and comes with access to Adobe Creative Suite.
Of all the packages you can buy that are on this list, I think 500 px is the best. To register simply click here and create an account.
8. Snapped4u
Snapped4U is marketed as a website for event and portrait photography. It is a website where you can send your clients after an event so they can buy the photos you took.
This is what Snapped4u says about its commission structure:
"We maintain a commission for each photo sold: in US accounts, The sales commission is $ 0.50 for photos priced at $ 5 or less and 10% for all others. In accounts outside the US USA, The sales commission is $ 0.60 for photos priced at $ 5 or less and 12% for all others. "
There is a $ 10 registration fee to start, but that's about it. There is no monthly membership fee to keep your account open.
Concluding this …
There is no right or wrong way to earn money as a photographer. I think it is better to have as many avenues as possible to generate income.
You can sell your photos to stock photography sites, start your own photography business, and ask people to buy the photos directly from your site, or create products from your images and sell them. Starting slow and taking different paths for you may be the best investment you can make.
The important thing is that you take the time to understand each business model and delve deeper so that you can turn your passion into a career that supports you. Which site did you like the most? And is there a business model that you think would work better than another? Let us know in the comment section below. And if you have any questions, don't hesitate to ask!