Traffic jams, the daily commute; somehow everyday driving never quite lives up to the endless roads they show in car commercials. If you dream of packing a bag, filling your tank, and seeing where the wind is taking you, now may be the perfect time to take a trip on one of these scenic roads.
Most Beautiful Roads In The World
Great Ocean Road, Australia
This 151-kilometer route has it all: breathtaking scenery, wide expansive roads, and you can even see a kangaroo or two on the way.
Alaska Highway, Canada – Alaska
If the thought of winding mountain roads and grizzly bear encounters doesn't discourage you, you'll be rewarded with incredible views of sparkling lakes in the Rocky Mountains.
Romantic road, Germany
If you like driving through the countryside directly from a fairy tale, go to Germany. This mythical route takes you to medieval cities and flourishing meadows.
Atlantic Ocean Road, Norway
You may not have heard of it, but this dramatic coastal route that takes you over the iconic Storseisundet Bridge is one of the world's best for road travelers.
Karakoram Highway, Pakistan
This highway is the highest international paved highway in the world, connecting western China and Pakistan. The peak of the road is right on the border of these countries: at about 4,800m, it is almost as high as Mont Blanc, which is 4,810m and 400m above Mount Whitney, the highest peak in the 48 states contiguous Americans. Imagine your sight!
North Coast 500, Scotland
This newcomer to the travel scene offers everyone traveling 500 miles a slice of Scottish soul in the form of fairytale castles, rugged beaches, and atmospheric ruins.
Ring road, Iceland
Often, and rightly so, called the Ultimate Road Trip, a tour of Iceland's stunning and otherworldly landscapes is something you will never forget.
Volcanoes, fjords, and geothermal pools – You definitely won't experience these kinds of landscapes on Route 66.
Grossglockner alpine road, Austria
Not for the faint of heart, this route climbs alpine peaks that reach over 8,000 feet. At the top, you will be rewarded by golden eagles circling in the bluest, clearest sky imaginable.
Trans-Andean Highway, Chile – Argentina
Covering two spectacular countries, this sensational 488 km road goes from Santiago de Chile to Mendoza in Argentina. Remember to carry your passport in the glove compartment.
Blue Ridge Parkway, Virginia – North Carolina
Absolute happiness for those who want to drive and drive, this route does not have a single stop sign or traffic light. Although you can occasionally admire the romantic blue haze that lingers in the mountains in the distance.
Amalfi Coast, Italy
Lush mountains, colorful towns, and crystal clear waters – it is no wonder that this coastal route is featured in so many movies and is officially recognized as a World Heritage Site.
Milford Road (Highway 94), New Zealand
Thanks to the Lord of the Rings trilogy, the beauty of New Zealand's heartbeat is no longer a secret. But luckily, you can still drive for miles and miles without seeing anything but forests, mountains, and lakes … and maybe a hobbit, if you're lucky.
Le Passage du Gois, France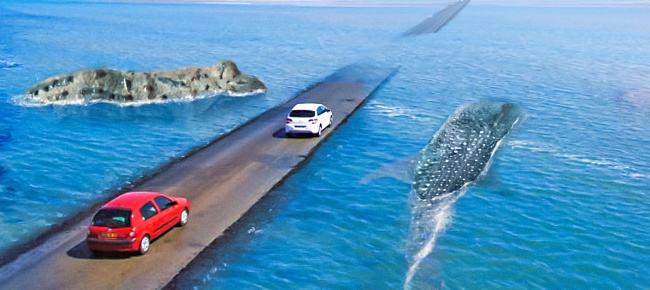 Via the Internet, this path turns into a horrible image in Photoshop, but this is what the incredible path looks like in real life:
This beautiful view is in France. Even when not in Photoshop, it is something to see.