Want to study abroad in Asia the world's largest and populous area? Whether you are a western student or belongs from Asia and looking for something different, no problem Asia continent has lots of opportunities for you. We are talking about Asian universities, which are the best universities all around the world.
The Studentguide.me team researches all Asian universities who offer a fully-funded scholarship to finance a study at any level. We only focus on fully funded scholarship however some universities may offer a partially funded scholarship for international student.
A growing number of student within the region and outside of Asia are choosing to study in Asia every year. Asia stands as number#1 continents for attracting international student to study in that region due to its high stander quality education.
Well developed education powerhouses like japan and hong kong recently receive competition from other countries like Singapore and South Kore. More top universities in Asia that present in Taiwan, Malaysia, China Also provide excellent caliber education to an international student. Want to start your career in a study in Asia with our Scholarship in Asian universities guide listed below.
These below Asian universities scholarship opporunity help you to finance the best study abroad locations.
Also Check: 8 Best Tips: How To Win College/University Scholarship?
Asian Universities Scholarship For International Student
We only focus on that Asian Universities Scholarship that offers a fully-funded scholarship and opens for a scholarship application. Below lists of universities scholarship deadlines in 2020, so apply for all scholarship as soon as possible.
#1. Zhejiang University Scholarship – China
Zhejiang University is Elite C9 university located in the capital of Zhejiang province. Zhejiang University is one of the oldest and most decorative universities in china founded in 1897. Chinese Government Scholarship – Chinese university aims to develop outstanding international talent and help them to study in china. Zhejiang University under Chinese government offer scholarship for international student.
The Zhejiang University Scholarship open for master and Ph.D. candidates for the academic year of 2020. The duration of Chinese scholarship is 2 and 3 years. Zhejiang University Scholarship offers full support including tuition fees, international travel expenses, accommodation charges, living expenses in China and all other costs.
Deadline: 31st March 2020
Also Check: Top 25 Medical Scholarship + 15 Chinese Universities MBBS Scholarship
#2. Ritsumeikan University Scholarship – Japan
Ritsumeikan University is a private university located in Kyoto, Japan and established in 1869. Ritsumeikan University also awards scholarship for international student with the help of MEXT Japanese government scholarship. This year's university of Ritsumeikan award study grants for master and Ph.D. candidates to study in Japan.
The duration of master and doctoral scholarship is 2,3 years respectively. This japan scholarship support includes tuition fees, round air trip tickets, accommodation, and living expenses.
The MEXT University Recommendation Scholarship is the best scholarship in japan sponsored by Japan government in which selected japan universities to offer a scholarship for a foreign student.
Deadline: 8th January 2020
Also Check: Top Tuition-free Countries In Europe For International Student
#3. Hammad Bin Khalifa University Scholarship – Qatar
Hamad Bin Khalifa University public university located in Doha, Qatar. HBK university also a member of the Qatar education foundation for science and education founded in 2010. Hammad Bin Khalifa University starts its first academic year in 2014. HBK university scholarship offer for bachelor, master and doctoral program for the year 2020.
This is a fully-funded scholarship in Qatar for international student. All student expenses and study costs in Qatar will cover by Hammad Bin Khalifa University. Moreover, for this Qatar scholarship, IELTS or TOFEL not required you can also apply for a scholarship with an English proficiency letter.
Deadline: 1st Feb 2020
Also Check: Top 10 Best Freelance Websites To Start Freelancing Job
#4. Northwestern Polytechnical University Scholarship – China
Northwestern Polytechnical University public university under the ministry of industry and information board located in Xi'an, Shaanxi, China. NPU also one of those universities that offer scholarship under the Chinese government. NPU scholarship award to graduate and doctoral student who want to interested in study in China.
Currently more than 35000 student studies at Northwestern Polytechnical University in which 28000 are an international student. Like all other Chinese government scholarship, this also provides full support to the student including tuition fees, living, and accommodation, travel, health, etc.
Deadline: 15th April 2020
Also Check: Scholarship Interview Tips And Most Common Question & Answer
#5. Azerbaijan Technical University Scholarship – Azerbaijan
Azerbaijan Technical University Public university famous for its engineering course located in Baku. ATU has more than 9 institutes, 53 departments, 884 faculty member and around about 10000 students. Azerbaijan Technical University award scholarship under the government of Azerbaijan for bachelor, master and doctoral degree.
This is a fully-funded scholarship for international student in Azberbhain. Not only that Government of Azerbhain scholarship also offer to more than 40 universities for international student.
You can choose any university according to your course and field ATU is just one of the universities. The scholarship support includes full tuition fees, free accommodation, Free study material, and health medical insurance.
Deadline: 15th February 2020
Also Check: Why Should I study abroad? Benefits & Advantages of Studying Abroad
#6. Beijing Institute of Technology Scholarship – Beijing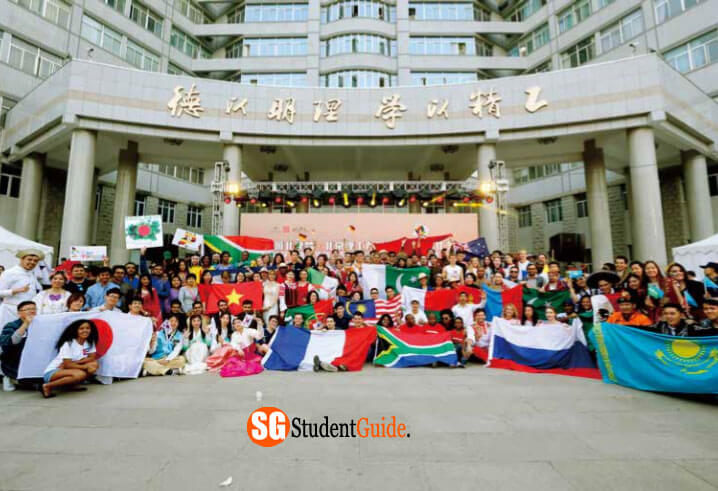 Beijing Institute of Technology public research university in Beijing china established in 1940. It is one of the best research universities in China under the supervision of the ministry of education and information technology. More than 30000 student currently studies at BIT china.
Beijing Institute of Technology offers a scholarship under Chinese government scholarship and the Beijing government scholarship. BIT scholarship offer for master and doctoral degree and this usually be fully funded. If you want to study in China then a BIT of scholarship helps you to finance your study in China.
The Bejing scholarship amount covers student tuition fees, living expenses in China, and all other related costs.
Deadline: 15th April 2020
Also Check: Canada Study Visa: How To Apply For Visa, Requirement, Process
#7. Donghua University Scholarship – Shanghai
Donghua University public research university established in 1951 under the ministry of education of China. University of Donghua offer scholarship under the Shanghai Government Scholarship 2020 for international student.
Donghua University Scholarship open for bachelor, master and Ph.D. applicant for the academic year of 2020. The duration of the Shanghai scholarship will be 4 years for a bachelor program, 2-3 years for the master's degree program and 3-4 years for a doctoral degree program.
This is fully funded scholarship support from Shanghai Government and scholarship amount will cover student tuition fees, student accommodation and living expenses in shanghai, health and medical insurance, and study material cost. Personally we also consider this is the best Asian scholarship for international student.
Deadline: 31st March 2020
Also Check: List of 34 Chinese Scholarships For International Students
We hope these open Asian universities fully funded scholarship will help you lots. If you need any additional help regarding scholarship please don't hesitate to tell us in a comment. For more scholarship opporunity keeping visiting Student Guide.