Valentine's Day is on the calendar, reserved for unleashing romanticism. However, there are people who do not need a specific date to show their love. Nor do they do it with great gestures, but with simple details that confirm how much they love their partner.
Being in love is one of the most beautiful things in life and we want to honor love by telling several stories of romantics who taught us how to do it with simple but important actions.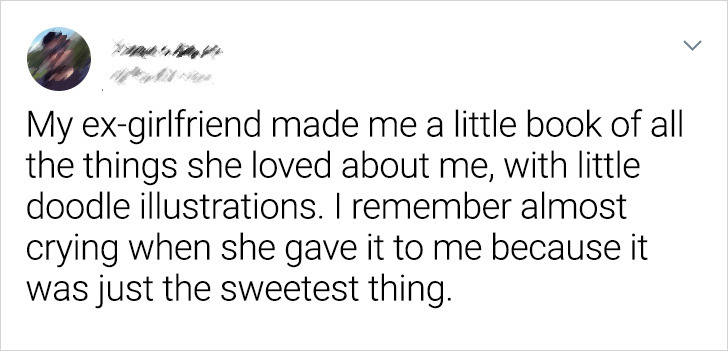 Before we got married, my wife (then girlfriend) lived 45 minutes away. I had a cold so we canceled our date early and she left and went home. She asked if I had anything to do with it, and I didn't because I was establishing myself as an independent adult for the first time.
This woman drove all the way back, she had already made the round trip once, to bring me Nyquil, Gatorade, and chicken soup without me asking. She just came back with supplies. 10/10 wonder woman. © cat_daddylambo / Reddit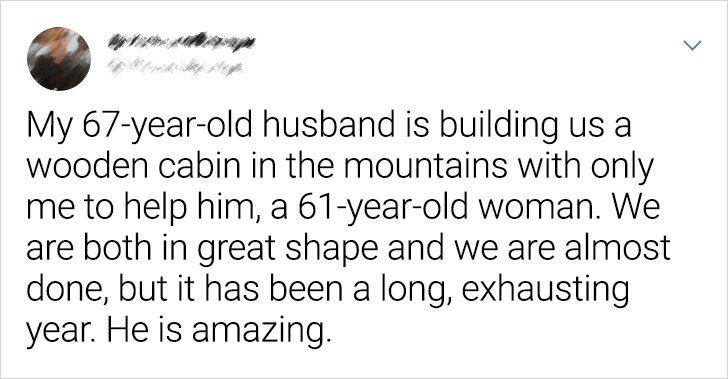 In my first year of medical school, I was struggling to take care of myself, pay for my dog's surgery, and buy healthy food that I needed time to prepare on top of my bills. One day after my partner left after a visit, I noticed a bunch of healthy snacks in my pantry.
The next time, there were more snacks and some packs of Mio. After the third time, I called him crying because he had filled an entire drawer with my favorite protein bars.
Even now, when he comes to stay for a day or two, he buys and prepares chicken, vegetables, and quinoa just the way I like it while I'm at school. I don't usually see him until he's gone. He helped me a lot in this. © TheineandTheobromine / Reddit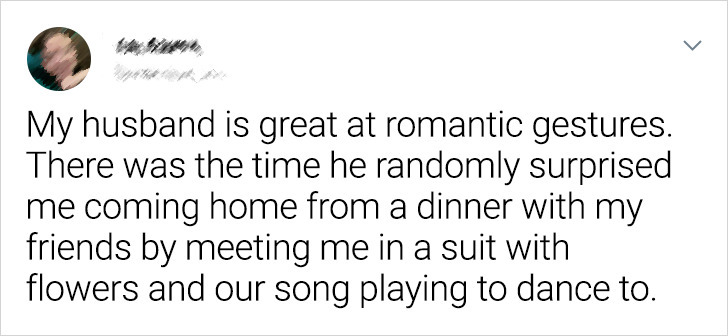 Quite low-key, but I think it's romantic enough. On one of our first dates with an ex we were talking about our physical preferences, short hair or long hair, red or blonde, blah blah, that kind of thing. I didn't know what to say so I just said that I like girls who wear glasses.
The moment I told her, she grabbed her bag, took off her glasses, and put them on, up until that point I had no idea she needed glasses as she never wore them on our dates. From then on, she always wore them around me. © Lossu / Reddit

When my husband and I got together, he did a lot of romantic things. About 3 months into our relationship, I noticed that he was buying me flowers. And specifically, sunflowers, which were my favorite flowers.
At my job at the time, I had Tuesdays off every week. Every Tuesday he brought me a different bouquet of flowers. And specifically, sunflowers, which were my favorite flowers. I never told him that either, I just assumed he picked a flower and assumed it was my favorite.
He explained that he noticed a necklace hanging from my car that my dad bought me when I was 18 years old. It was a sunflower padlock necklace that opened from the inside and said "You are my sunshine". I remember he asked me about the necklace and I explained that my dad gave it to me and I haven't taken it off since. I didn't think anything of it, but that's how he found out that sunflowers were my favorite. © lillypadlola / Reddit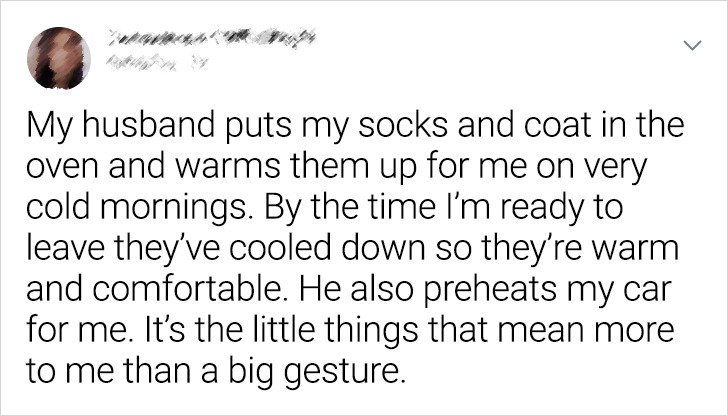 I had a really terrible prom in high school. Without an appointment, my "friends" abandoned me, cried all the way home, etc. My boyfriend found out about this after we met a few years later and he threw me a prom at his apartment.
He decorated, he removed all the furniture in the room to make a dance floor, he bought my favorite food for dinner, he came to my door with a bouquet, everything. We have been married for 14 years now. © Suspicious-Elk-3631 / Reddit
My wife knows that I have a certain level of discomfort with physical affection based on my childhood. And it's not just that she knows about this discomfort, it's that she has taken the trouble to realize that I really enjoy physical affection once the first few seconds are over.
So this woman will come and hug me steadily and very patiently, and she will keep hugging me until I relax and hug her back. Or she will put her hand on my leg, slowly rest her hand on mine, etc. all those little things she does that represent the culmination of the trial and error effort she put into understanding and overcoming my "things." I am a better man because of my wife. © ksozay / Reddit
What irresistibly romantic gestures has someone ever done for you? What was that one time when you did something unforgettable for someone else?
Preview photo credit Zerly / Reddit, Emojipedia