YOU CAN EASILY WIN UP TO $ 150 PER HOUR ANYWHERE, PARTICIPATE IN THE MARKET RESEARCH!
A few days ago, I received an email in my inbox that said:
"Mike, you can fit in a $ 150.00 study!"
If it wasn't from a legitimate consumer research company, I wouldn't even have opened it! But I knew the company very well and knew that this was a real opportunity to earn money.
It was for a study on hair care tips and routine!
But hey, $ 150 for an hour of my time? Why not?
This is very special and not easy to find!
I used research companies before! And as much as I like the Swagbucks for their gold surveys and reimbursement (I won more than $ 200 in a few months, just buying through the links! So you should register for free …), $ 150 for an hour without not bad!
And as I am always very interested in discussions and ways to earn extra money, I decided to do a little research to find other companies that are looking for people to make paid focus groups, in person or online.
And the best of the focus groups online? You can do this from anywhere!
Therefore, you can participate in some of them, no matter where you are or your nationality.
What is a Focus Group?
A focus group is a small group of people who have been invited to share their views.
Focus groups can be done in person or online.
Usually, they are used for market research of new or existing products, in order to determine people's attitudes towards specific brands, usability, packaging or ideas. They can also be used for political campaigns and opinion polls. You can think of paid focus groups as a much deeper investigation.
They usually involve giving opinions and answering questions about a specific topic, drinking free coffee and returning home with an extra $ 50 to $ 150 in your pocket.
Now, more and more companies use paid surveys to better understand the market and trends and connect with consumers, not only locally, but worldwide.
How Focus Groups Work
In-person
If you find a personal focus group near you, you should attend the interview in person. Normally you will be interviewed within a group where each participant can chat.
There is usually a researcher or moderator to lead the group, take notes, ask questions and record the results.
If you join a discussion group in person, you may have to attend more than one session, but you will be paid for each session you participate in.
Online
An online focus group is very similar to a personal focus group. You must participate online through chat, on your tablet or smartphone. You usually receive a link to access the focus group, and from there, you can join the discussion and give your opinion.
There are some online focus groups that also use specific videos or web-based software. You must download the software before investigating the focus group.
Now, more and more research is opting for focus groups online, as it is much cheaper for them: they can reduce money spent on materials and employees, as well as make it much easier to have a larger group of potential participants in the group. investigation
How Much Do Focus Groups Get Paid?
Each focus group will be different, but you can expect to earn $ 30 to $ 150 per focus group (although some very specific focus groups may pay up to $ 450 for an hour of their time!).
The amount you will receive will depend on the time spent, which is usually one or two hours.
Usually, you are paid in cash, through PayPal, check or gift certificate. Some market research companies pay with points that you can redeem with a specific credit card.
Find out exactly how you will get your money before agreeing to join a focus group!
How To Find Paid Focus Groups
If you are looking for focus groups online or in person, near you, you must be a little patient, as you must go through an evaluation process before you can participate in any research study.
Consumer research companies generally look for people with very specific interests and profiles, and may not qualify all the time.
By joining as many companies as possible, you can maximize your chances of qualifying for as many focus groups as possible.
But before you start registering, take a few minutes to verify the company and make sure it is legitimate. The last thing you want is to waste time and be scammed online!
Read all the fine prints and check the Facebook pages to find out what kind of comments they are receiving. As with all survey companies, you will never find a 5-star rating for everyone! Some people will love you, others will hate you.
But luckily for me, I did a lot of hard work and researched the best focus group companies online!
10 Best Online Focus Group Companies
Here I have compiled a list of the 10 companies that pay the largest sums, to make the most of your time!
You will find information on how each company pays and accepts the registration of countries, cities or worldwide.
#1. Respondent.io (Also my favorite)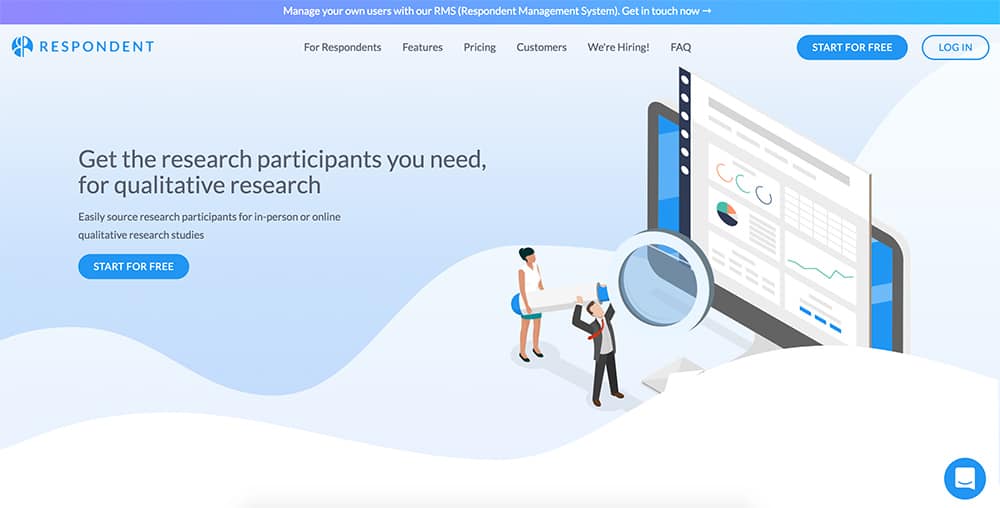 The interviewee is my favorite option for focus group studies in person and online and the one that gave me the $ 150 focus group.
Your payment is excellent, up to $ 250 per survey, sometimes more!
And they accept respondents from EVERYONE!
Respondent.io has projects available for US residents, and the foreigner. This means that you do not need to be in the USA to participate and win $ 50 to $ 250 per survey.
All you need is a PayPal and Facebook or LinkedIn account to connect your profile.
How it works:
After creating your account, you can explore all open studies.
Request to participate in the studies you deem appropriate.
The researcher/sponsor of the study analyzes the responses and sends invitations to the respondents who best fit.
If you receive an invitation to participate, choose a time that is most appropriate for those provided by the researcher.
After completing the study, you are paid through PayPal.
Respondents receive the amount of the cash incentive announced by the researcher, minus 5% (or a $ 1 service fee, whichever is greater). Example: If the cash incentive is $ 150, you will receive $ 142.50 through PayPal.
I know you'll love it and you'll soon find something that's right in your alley!
#2. User interviews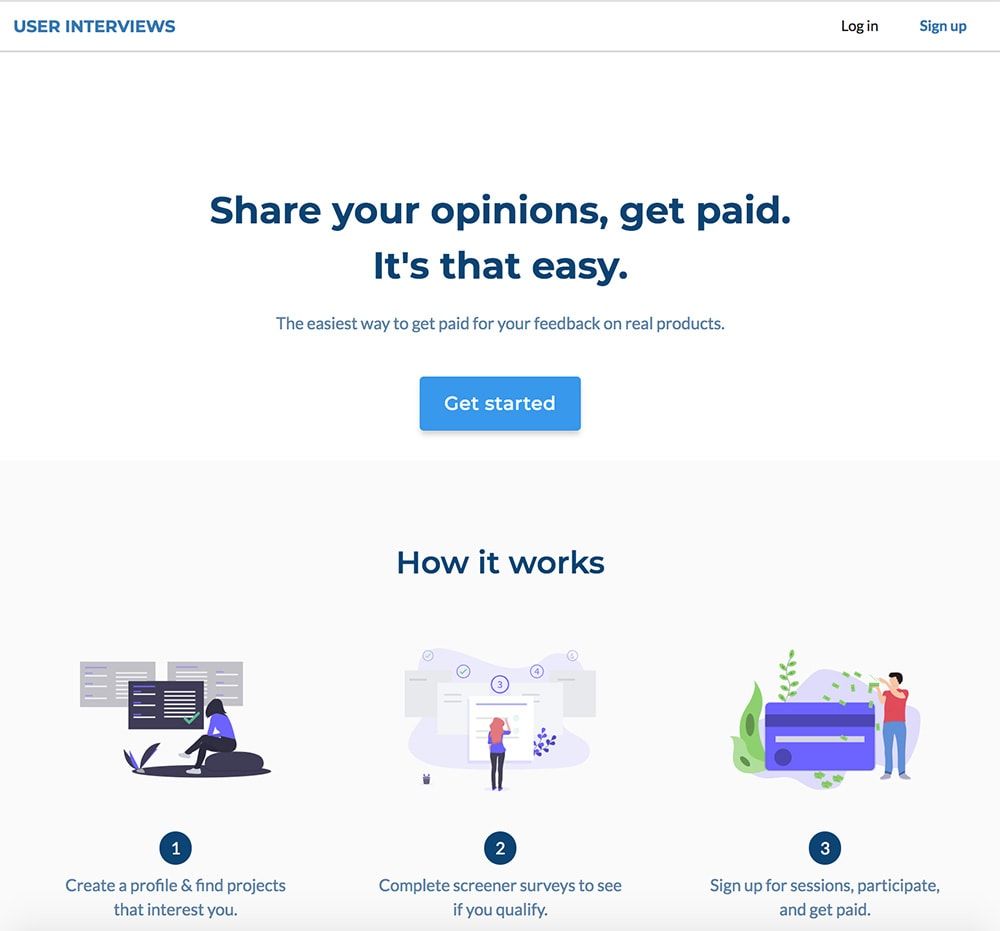 User interviews take second place because you can only enroll in online focus groups if you are in the US or Canada.
But if you are from one of these countries, you must submit your application! It is really obvious.
The first step is to create an account by clicking here. You must provide basic information, such as name, city, and state, as well as basic demographic information, etc. This information will help user interviews to compare it with studies. Creating an account takes approximately 2 minutes!
If you connect through Linkedin and Facebook, you are more likely to participate in focus groups, as they will be able to see details in their profiles.
Once you subscribe, you can choose between:
Focus groups
Individual interviews
Multiday studies
Task
You will be paid in cash, check, Paypal or Amazon gift card or Visa. The type and amount of the incentive are shown before selecting a study, so you can consider the payment method before submitting the application.
Payment ranges between $ 75 for 30 minutes of your time and $ 450 for very specific one-hour studies.
What I like about user interviews is that their studies are very diverse and cover a variety of topics: technology, food, consumer goods, family, software, hobbies, pets, sports, transport, beauty, social networks, music. etc. You will be part of the conversation as new products, applications, websites, etc. created, sharing their unique perspectives so teams can create better things.
They have some amazing clients, which include Pinterest, Spotify, Vistaprint, Wayfair, Thumbtack and more.
#3. Recruitment and field
With a remarkable 4.9 of 5 on Facebook, Recruit and Field offer online studies nationwide in the US, As well as focus groups in different places.
They are looking for participants of any gender and age for their studies, including professionals and medical professionals (doctor, nurse, laboratory technician).
They usually pay through PayPal, but they also offer digital or Amazon gift cards.
Your payments range between $ 100 and $ 275 per study.
#4. Survey Junkie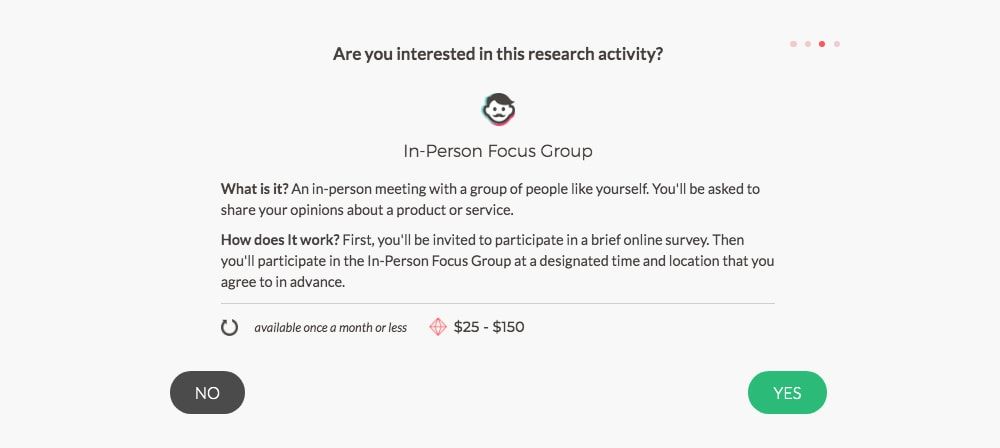 Survey Junkie is a great legitimate website to earn extra money! It is mainly a research company. With your research, you can earn between $ 0.5 and $ 5 (although the average is likely to be $ 1 to $ 1.50). However, after enrolling, you can participate in some focus groups and large studies.
Survey Junkie offers:
Product testing: up to $ 50.00: get a free trial product and get paid! You only need to complete an online survey after using it.
Face-to-face focus groups: up to $ 150 – after an initial online survey, if selected, you must join a face-to-face focus group near you.
Telephone research: up to $ 100: you will experience telephone research questions from the market.
The only problem is that some of these more payment options are only available once a month (or less, depending on your profile).
I really like how easy it is to set up Survey Junkie and it costs nothing to subscribe.
#5. Ipsos i-Say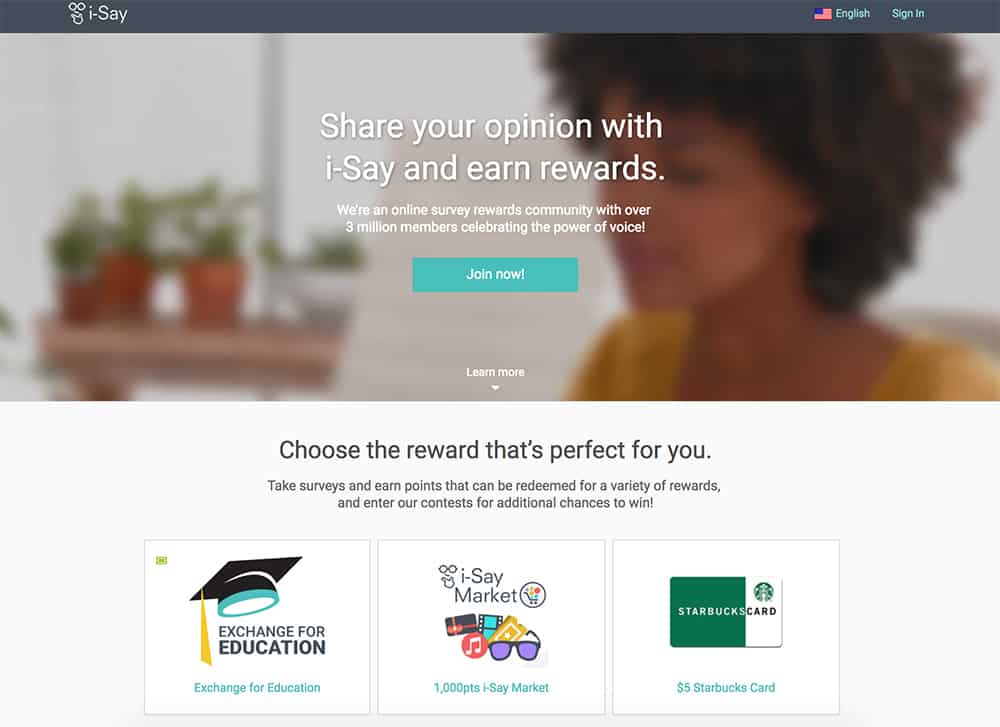 Ipsos is the third largest research-based research company in the world and its consumer research platform accepts people from all over the world.
Most of the offers available here are for small surveys where you can earn only $ 0.40 to $ 1.50 per survey, but periodically they offer high-level surveys and focus groups that pay between $50 and $100 for one hour of your time.
They also have a mobile application that allows you to perform searches on the fly.
When you complete a survey or focus group, earn points instead of money. Points vary according to the duration of the search. You can redeem your points when you have at least 500 in your account.
You will be paid with gift cards (including Amazon and iTunes) or you can also choose a prepaid Visa or PayPal card.
#6. 20|20 Panel
20 | 20 Panel conducts market research and paid online studies for clients of all types of industries.
It is not the best-designed site, but it has excellent reviews on Facebook (4.3 out of 5).
They paid for opportunities for participants to share their opinions. You can enroll in local focus groups (Charlotte, Nashville, Miami) or online (the US and Canada) and you can earn between $ 50 and $ 2500!
They will post prequalified surveys on their Facebook pages or send them by email. If you qualify, they will contact you to provide details of the study.
#7. FocusGroup.com
FocusGroup.com offers discussion groups in person and online throughout the country. You can check "Available studies" to see how much you can pay. Most studies pay between $ 70 and $ 250.
Most of the research studies that will interest you are probably about consumption issues, which include:
Products related to children
Cellphones
Go out for dinner
Pets
Cars
Entertainment
electronics
sports
But they also handle specific business and medical issues.
Your payment methods are different for each research study. Be sure to check if you are satisfied with the payment method before applying!
They usually pay with a prepaid Visa card (generally valid for 180 days), check, gift card or cash.
But they also run business-specific topics and medical topics.
Their payment methods are different for each research study. Make sure you check if you are happy with the payment method before you apply!
They normally pay either via pre-paid Visa card (normally valid 180 days), check, gift card, or cash.
#8. American Consumer Opinion
American Consumer Opinion is an important research firm for people in the US With more than 7 million users. Registration is free and you can receive money in two ways: PayPal or check.
Usually, you don't pay much, with short surveys that yield $ 0.05 to $ 0.50, but if you are selected for longer market research surveys, you can earn up to $ 50.
You earn points for each survey you take. 1 point is equivalent to 1 cent. When you reach $ 10, you can claim your money.
#9. Fieldwork
Compensation for fieldwork to join a focus group starts at $ 75 and its focus groups generally last an hour or two.
It has locations in the United States:
Atlanta
Boston
Chicago-Downtown
Chicago-O'Hare
Chicago-Schaumburg
Dallas
Denver
Fort Lee, NJ
LA-Orange County
Minneapolis
New York City
Phoenix
San Francisco
Seattle
But if you don't live near any of these places, you can still request to participate in the national database. They usually pay with Visa gift cards but verify before requesting a focus group.
#10. Probe Market Research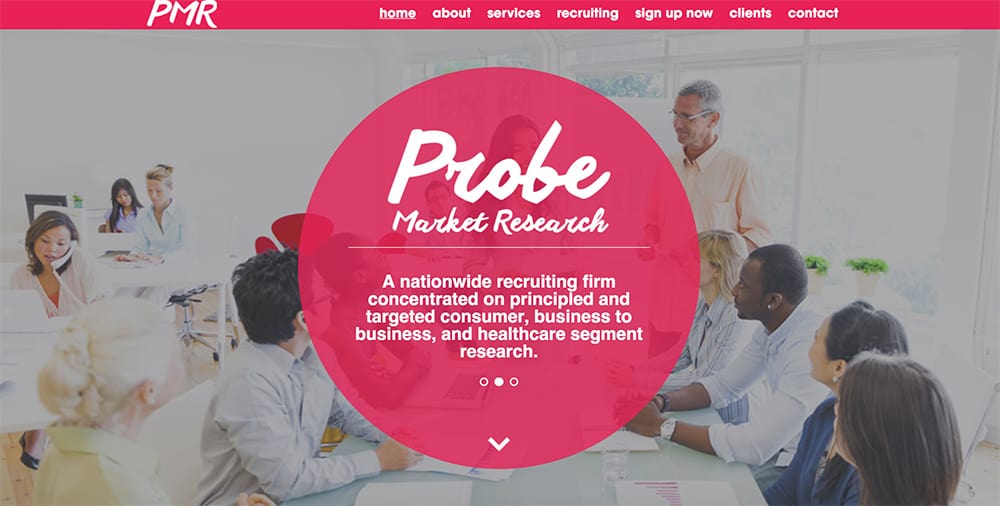 With a rating of 4.7 out of 5 on Facebook, Probe Research is a market research company based in the USA= and it constantly organizes focus groups to get feedback on new advertising campaigns, products or customer services.
Focus groups generally pay between $ 50 and $ 400, and in some cases, you may not even have to leave home! Interviews are conducted in groups, by phone or online, depending on the amount of time allotted for that particular study.
More ways to find paid focus groups
My 10 favorite sites for focus groups online and personally are not the only ones available! And as I said before, the more you find, the more opportunities you have to fit perfectly in a paid focus group.
You can also search the Facebook "focus group" to find a list of company pages looking for candidates. I have listed some more companies below that are worth visiting!
Enter and receive a payment for the investigation!
Focus groups won't make you rich overnight, but they are a great way to earn extra money in your spare time!
And if you don't want to receive a free coffee from a group of people in person, sign up for Swagbucks and get $ 5 of free credit you can use for your Starbucks gift card!