Being able to leave my job and earn money at home has always been one of my dreams.
We all have different reasons for wanting to work from home:
creating your own business and be your own boss
have more freedom to travel and explore the world
wanting to spend time with their children as a mother or father who stays at home
Whatever the reason, you don't have to be an online expert or spend a lot of money on training to earn money at home.
All the ways to earn money at home that you will find here cost little or no money to set up.
You will mainly need only:
a computer
Internet access
enthusiasm
The good news is that you will have most of these things if you are reading this.
But if you really want to earn passive income, you should make sure you treat the idea you choose as your own business: you must create a routine and set your own schedule. Reserve time in your day and organize your calendar.
Not going to an office is no excuse to neglect your project at home!
The amazing thing about creating your own business is that you will be responsible for your own success.
And it is really possible to start earning up to $ 100,000 in a year or two. In this post, I will share with you real-life examples of people who, without previous experience or a typical job of 9 to 5, manage to obtain a 6-figure income working from home.
If you are ready to earn money without a "real" job, roll up your sleeves and let's start!
How To Earn Money At Home In 2022
Here I have listed the best ideas to make money at home. These ideas will help you start your own business and live the life of your dreams!
1. Proofreading
What You Need: Computer, Internet access, word processing software
BENEFIT: $ 35,000 – $ 59,000 / year
Catching mistakes can be a very profitable business!
If you are passionate about grammar, punctuation, and spelling, and you have eagle eyes for mistakes, this may be the perfect job for you!
Copy editors and proofreaders help others check the spelling, grammar, and readability of written material. And with an average salary of around $ 36,000 a year, it's a great way to earn money from a laptop at home.
You can start a proofreading business from anywhere, making it a perfect way to earn extra income home or while traveling.
Caitlin from Proofread Anywhere is an amazing example of how successful proofreading can be. She earned just over $ 43,000 as an independent proofreader, while spending several incredible vacations. And now she teaches others how to become a professional proofreader in no time.
How To Start a Proofreading Business At Home
If you want to find out how Caitlin earns full-time income as a freelance proofreader, sign up for the FREE 76-minute workshop. It will provide a lot of useful information to become a freelance proofreader.
And if you're looking for the best sites to find proofreading jobs online, check out below.
2. Freelance Writer
What You Need: Computer, Internet access
BENEFIT: $ 50,000 – $ 85,000 / year
Do you like to express yourself with words? Writing can be the perfect job for you!
The writer's life allows you to work from home or anywhere, as long as you have a computer, Internet access, and a telephone.
There are countless opportunities, working for magazines and online websites or writing for companies that create their posts, brand content, newsletters or press releases.
The more experience you have, the more you can win. You can start your own blog to display your work and get your first paid opportunities.
How To Start Freelance Writing Jobs Online
If you would like more information on how to become a freelance writer and earn money at home and all the necessary steps to get your first commission, see this step-by-step guide to becoming a freelance writer.
And if you're not sure what you can write, take a look at the more than 200 freelance writing niches that are waiting for you!
3. Start A Blog
What You Need: Computer, Internet access, word processing software
BENEFIT: $ 25,000 – $ 1,000,000 / year (yes!)
I really didn't know how to make money at home without talking about blogs!
The best thing about blogs is that it requires a minimum initial investment (you just need to buy a domain and hosting for your website) and your time.
You can generate income by adding ads to your blog or generating money through affiliate marketing or creating your own product.
With affiliate marketing, every time people click on the affiliate links on your site and make a purchase, you receive a small commission at no additional cost.
Michelle, the blogger of Making Sense of Cents, earns more than $ 1 million a year with her blog (yes, it's true!).
How To Start A Blog And Earn Money At Home
With my blog, I went from $ 0 to $ 3,800 after only 3 months. Read how I did it by clicking here! And if you're ready to start your own blog, follow my step-by-step tutorial here.
4. Virtual Assistant
What You Need: Computer, Internet access, word processing software
BENEFIT: $ 40,000 – $ 60,000 / year
You can earn a lot of money working from home for a few hours a day by becoming a virtual assistant ($ 35 to $ 50 per hour!).
The beauty of this work is that it can be done at home and independently: some programs last one day, others can last weeks or months.
Virtual assistants must have strong administrative skills, be highly organized and can work in a variety of fascinating sectors, such as blogs and social networks, for example.
There are different types of tasks with which a virtual assistant can help a company. Some companies use a VA to track emails, online customer service, calendar updates, organize meetings, share blog updates, manage social media accounts on Facebook, Twitter, Instagram or Pinterest.
How To Become Virtual Assistant From Home
If you would like more information on how to start a virtual assistant job and all the tasks you can do and offer to potential clients, I strongly recommend that you read this amazing post.
#5. Transcriptionist
EQUIPMENT: Computer, headphones, Internet access, word processing software.
BENEFIT: $ 45,000 – $ 60,000 / year
As a transcriber, you will convert the recorded speech into a written electronic document. You must be a fast and precise typist and you will also need basic computer skills to become a successful transcriber. This work can be done at home and has a lot of autonomy.
But before considering this as an option, you must have the following skills:
Motivated and self-disciplined
Strong organizational and time management skills.
Comfortable working alone
Able to work independently, with little or no supervision or feedback
Flexible to change routines to meet deadlines
Writing seems like an easy job, but it requires a lot of concentration and time. The faster you go, the more money you can earn.
You can also specialize in specific fields that pay much more and are in great demand. For example, legal transcriptionists can earn significantly more.
How To Be A Transcriptionist From Home
If you want to be a professional transcriptionist, the best way to start is to enroll in the Janet course. Janet has been a professional transcriptionist since 2007 and now runs a successful transcription company.
She created this amazing FREE 7-day mini-course that will give you a better understanding of what the transcriber does and if it is the perfect job for you!
6. Dropshipping Business
WHAT YOU NEED: Computer, Internet access
BENEFIT: $ 20,000 – $ 100,000 + / year
A few years ago, I decided that I wanted to sell tea online. But after a few months, I realized how painful the broth was (in my room!). Guess what? There is a way to earn money from home with an online store without worrying about it.
Dropshipping allows you to sell products without seeing them or having to invest thousands of dollars in stock. Work with a supplier that will send items to your customers from your warehouse.
You only pay for direct shipping when you sell the product and receive payment from the customer, which means you can start a business with very little money.
You earn money selling products to your customers at a higher price than the direct shipping company charges.
If you want to earn money at home without having to invest a fortune, dropshipping is a great business model:
Getting started is easy.
It has low overall costs and installation costs.
You can offer a wide variety of products from day one.
It is easy to climb
But remember to select the right product and a niche that is not too saturated. The margins are very low and you need to differentiate through marketing.
When choosing a supplier, remember factors such as how long it will take to ship the items, how well the order is packaged and how customer service handles your customers.
Dropshipping can be a great flexible idea to work from home, and with the right planning and research, you can build a profitable business
How To Start Dropshipping Business
You can set up your dropshipping store with multiple platforms, including Shopify, WooCommerce in WordPress and Magento. You must find a supplier for your products.
Theo McArthur has an amazing course that will teach you how to launch your first profitable dropship site in 14 days and increase your income to $ 10,000 a month in profits.
7. Become a Dog Walker
EQUIPMENT: leash, garbage bags, dog treats
BENEFIT: $ 31,000 + / year
Are you an animal lover? Walking dogs always seemed like a fun and relaxing job. It is also a great way to do some exercises.
Becoming a professional dog walker will help you earn money at home while doing something you enjoy.
How much you earn depends on how often you work. Offer a discount to your first customers and ask for references to continue your business. You want to prioritize the blocking of regular customers, who will need it for at least weekly walks.
How To Become A Professional Dog Walker
Use sites like Rover to market your services and find local customers. Or you can place flyers in the area or talk to neighbors to see if they need help walking their dogs.
Many people travel for work or simply do not have the time or ability to walk the dog frequently.
To increase your income, try offering pet care services. That way, you can keep animals other than dogs and charge a nightly fee.
8. Virtual Bookkeeper
WHAT YOU NEED: Computer, Internet access, bookkeeping software
BENEFIT: $ 41,000 – $ 65,000 / year
Did you know that bookkeeping is one of the most profitable businesses on the planet, according to Forbes and Entrepreneur?
The average bookkeeper earns an average of $ 69 to $ 82 per hour. These revenue potentials make bookkeeper a wonderful option, whether you want to start a virtual business or simply earn some extra money, without having to work many hours.
As a bookkeeper, you will document financial accounts, including daily transactions, income and general cash flow for small business owners. This work requires some data entry since it is necessary to organize accounts and numbers.
The best thing about being a bookkeeper is that you can do most of your work on a computer, which means it is perfect if you want to earn money working from home (or anywhere else).
It may seem strange, but you don't need any special certification or accounting experience to become a bookkeeper. And most customers don't ask if they have any certification or not. But you still need to know what you are doing!
9. Teach Online
EQUIPMENT: Computer, Internet access, webcam / microphone
BENEFIT: $ 25,000 – $ 100,000 / year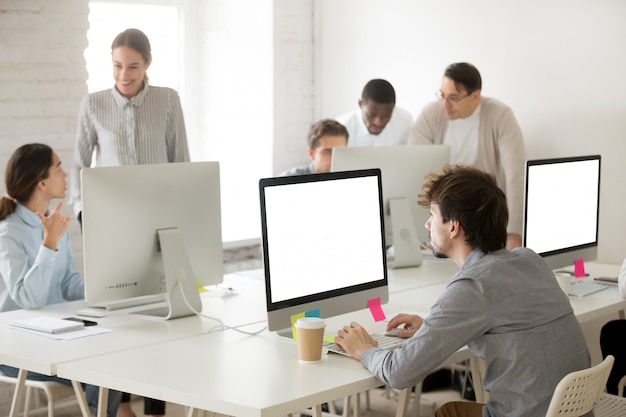 Becoming an online teacher is a great way to earn money at home. Generally, you should use a videoconferencing application such as Skype, FaceTime or Google Hangouts.
There are 2 ways to teach online:
Create your own course
Become a company tutor
Create your own course
I'm sure you're an expert on something. Or at least you know more about a subject than most people.
If so, think about how you can create an online course to share your knowledge.
The best thing about creating your own online course is that it can become a great resource for passive income: you must do the hard work once when creating the course and then sell it again and again.
Mark Dawson, a desktop publishing writer, after listening to a friend who was benefiting full-time teaching at Teachable, decided to try. He decided to organize an advertising course on Facebook for freelance writers, and in a few weeks, he earned more than $ 100,000 of his lessons.
You can use Teachable to create videos, audio, PowerPoint presentations or anything else necessary for your virtual course.
Therefore, you just need to decide on a price and publish it. The deeper your course, the more you can charge.
How To Teach Online And Earn Money At Home
If you are seriously interested in starting an online course, a great place to start is the free online seminar to teach. Teachable offers free live training to help you start your online course quickly. You can claim your FREE seat by clicking here.
Become a tutor
If you want to become a tutor, you do not necessarily need a certification, but most companies will apply for a bachelor's degree and / or some teaching experience in the field. Most companies offer free training when you become a tutor for them.
It is a great way to earn money at home, especially if you already have some experience.
How To Become Tutor Online
Look at these big companies
Another fantastic way to become a tutor is to teach English online to children in China.
VIP Kid is an excellent online platform to teach English to Chinese students from 5 to 12 years old. You don't have to learn Chinese to teach since VIP Kid is an immersion class in English. The royal class offers a complete individual immersion experience for children and can earn up to $ 22 per hour.
EF Education First is another great company to work for. It is an English company founded in 1965 and now has classes available online.
You can earn up to $ 20 per hour from the comfort of your home! Must be a U.S. resident or the UK and have a bachelor's degree and, at the beginning of your contract, you must have completed a TEFL of 40 hours (or more).
10. Become a Virtual Receptionist
EQUIPMENT: Computer, Internet access, landline, headphones (optional)
BENEFIT: $ 30,000 – $ 60,000 / year
Yes, receptionists can also work from home. A virtual receptionist is similar to a VA, although it usually handles traditional receptionist tasks.
This includes tasks such as answering phone calls, answering customer inquiries, providing customer service, managing contact lists, and scheduling meetings.
This work can still be flexible, depending on when your client's offices are open and if you are likely to work closely with clients to provide a satisfactory experience.
To excel in this type of work, you will need excellent communication and interpersonal skills.
It will also help to organize, be an expert typist and can quickly understand when to learn how to use the new software systems that the company may have.
How To Become A Virtual Receptionist
You can find excellent virtual receptionist opportunities at FlexJobs, a website that offers flexible and remote jobs.
Vicky Virtual is another company that pays virtual receptionists to work.
The base salary for receptionists varies from $ 30,000 to $ 60,000, but you can earn more if you start your own virtual receptionist business after acquiring some experience.
11. Become a Virtual Travel Agent
EQUIPMENT: Computer, Internet access, telephone, travel agency software (optional)
BENEFIT: $ 37,000 – $ 60,000 / year
Are you the person in your family who always plans a vacation? If you like to organize trips, becoming a virtual travel agent can be the perfect way to earn money at home.
Travel agents have a super fun job: they look for the best deals on vacation packages and accommodation for their clients.
It can help people plan a family vacation, romantic honeymoon trips, and backpacking adventures.
To help you in the process, most travel agents partner with different companies so they can receive discounts to offer customers.
Working with a travel agent is usually free for the traveler, but you earn money with the hotels and travel companies you work with.
Whenever your client reserves it and uses its partners, you will receive a commission from them. In addition, you can also get discounts on trips.
You do not need any specific certification to become a travel agent. Ultimately, your knowledge of the destinations, the ability to plan and reserve software will be the crucial bits you need.
How To Become A Successful Online Travel Agent
If you are completely ecological and have no experience, consider taking a course with The Travel Institute to learn more about the industry and its role.
The class will teach you things like basic itinerary planning skills, as well as important information about different cultures and how to improve your clients' experience.
In addition, The Travel Institute will also help you become a certified travel agent and determine which business route you want to take.
12. Amazon FBA Business
EQUIPMENT: Computer, Internet access, printer, boxes and tapes, shipping labels
BENEFIT: $ 30,000 – $ 100,000 / year
We all know the Amazon. Amazon is the largest online retailer in the United States, the United Kingdom and most of Europe.
FBA means 'compliance with Amazon'. This means that Amazon takes care of all the seller's inventory. When a customer makes an order, he completely ignores the seller and goes directly to the FBA warehouse. Amazon chooses the order and delivers it to the customer.
The basic idea for an Amazon FBA business is this:
You buy shares at a discounted price (for liquidation or stockists). You set a price, send your products to Amazon and sell them for profit, and Amazon takes care of the sales process.
The idea is to create an online store, with Amazon handling customer service, returns, and inquiries.
This is a great business model since it has very low initial costs and a lot of flexibility. Ideally, you should reserve between $ 500 and $ 1,000 to start your business, buy the initial stock and basic tools. But you can start spending less if you are worried about investing too soon!
Jessica, from The Selling Family, is a real example of the success of an Amazon FBA business. He managed to earn more than $ 100,000 in his first year with his Amazon FBA business.
How To Start An Amazon FBA Business With Little Money
If you would like more information on how to earn money with Amazon, click here to sign up for Jessica's free Amazon 7-day email course and learn everything you need to know about how everything works and help you decide if it is the best option for you
13. Flipping For Profit
EQUIPMENT: Computer, text processing software, some storage space
BENEFIT: $ 40,000 – $ 100,000 / year
Flipping means buying things at a low price and selling them for more.
I think this side shake is great because you can literally make money with anything! You just need to love shopping online or in charity stores and look for amazing bargains, which you can resell with profits. You can start selling clothes, antiques, works of art or furniture.
Melissa and Rob managed to earn more than $ 42,000 a year, working less than 15 hours a week.
Some of the incredible deal they made:
Old radio: bought for $ 15, sold for $ 200
Doorknob: bought for $ 8, sold for $ 200
Playground: bought for $ 50, sold for $ 2,100
One of the ways you can earn money by exchanging items is by updating old furniture and giving it a new life! Melissa and Rob's workshop will show you everything you need to know to enjoy old furniture!
How To Start Flipping Business
If you want to take your flipping game to the next level, join them at Flipping University by clicking here. In this incredible course, Melissa and Rob will show how they went from $ 42,000 in 2015 to $ 133,000 in 2016 with their business invested.
14. Graphic Designer
WHAT YOU NEED: Computer, Internet access, Adobe Photoshop, Adobe Illustrator, Adobe Creative Cloud
BENEFIT: $ 45,000 – $ 125,000 / year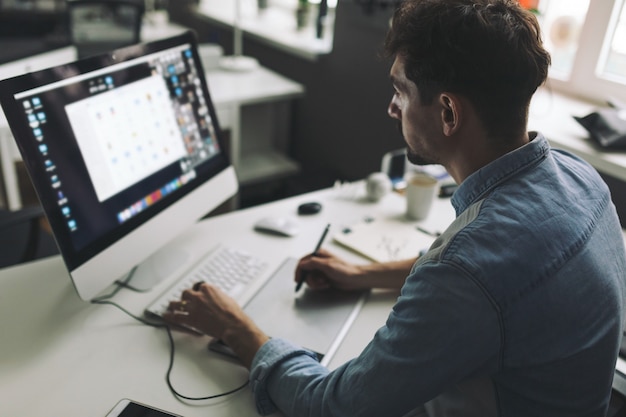 If you are a creative person and you like to design different things, you can earn money at home using your skills in Adobe Photoshop and Adobe Illustrator.
Graphic designers do more than just create websites. They also design logos, brochures, promotional materials, business cards and more.
Graphic designers earn an average income of $ 46,900 per year, but you can earn more if you accept larger projects or work on your own.
Think about it: if you create 8 sites per month (2 per week) for $ 500 each, or $ 4,000 per month. Add another $ 1,000 for various design tasks and $ 5,000 a month or $ 60,000 a year.
How To Become A Graphic Designers And Illustrators
You can start by creating an online portfolio with some samples of your work. After setting up your portfolio, you can check job boards such as FlexJobs, Fiverr and Upwork.
Other great sites to start your graphic design career: 99Designs, Design Crowd and Dribbble.
15. Social Media Manager
WHAT YOU NEED: Computer, Internet access
BENEFIT: $ 50,000 – $ 75,000 / year
If you like social media, but you don't want to create your own brand or blog, you can become a social media marketing manager!
Virtually all companies exposed to the sun have a social presence, but managing all these accounts can take a long time, especially for smaller brands.
And this is where they will need your help!
Running social media accounts, such as Facebook, Pinterest, Instagram or Tweeter, is a great way to earn money at home.
How To Be A Social Media Manager From Home
The best way to find work as a social media manager is to reach the brands you love, admire and sell!
You can also find great opportunities on sites such as:
Ready to Earn Money at Home
Here you have them: the best easy ways to earn money at home!
Starting this blog was the best decision I made in a long time and I could not be happier to have found the freedom and satisfaction of having my own business.
I hope some of these ideas to make money inspire you to create your own future!