A resume is usually a summary of your qualifications and academic achievements when writing for Undergraduate applications abroad. Now, what happens to most Undergraduate hopefuls is that they get very confused and in trouble because they don't know exactly what not to keep and exactly what to highlight.
When writing a resume, they often overload it with a lot of invalid information that is not worth mentioning. A complete and well-written study plan is highly recommended for the admission process to UG courses abroad.
How To Write Undergraduate College Student Resume
Choose the best format
All resume formats consist of five sections. What differs between the formats is the order of the sections and how much space your resume design allows them. There are three main formats of a resume and they include the following:
Chronological Format: This standard resume format clearly shows the companies you have worked for and the length of service. To create this format, list jobs in reverse chronological order, starting with the most recent or current job and then working backward. This format typically includes a summary, work experience, skills, and education section, in that order.
Functional Format: This format places related skills and achievements more prominently and places less emphasis on work history. It also usually includes a summary, qualifications or skills section, work experience, and an education section, in that order.
Hybrid Format: This format features chronological and functional styles.
Add a Simple Contact Info Section
This section should include your first and last name, city and state, current phone or cell number, and email address. Make sure your initial contact information only fills one line on the page, right below your name at the top of your resume.
Also, make sure that the font size of your name and your contact information is not the same. Your name should be the biggest headline on your resume.
Example:
Jessica Simpson
512 Dhaks Kho Oten Ave.• New York, New York
jessica[email protected] • 555-102-1234• bahobilatjess.portfolio.net
Write a concise objective
The goal of an undergraduate resume should focus on the benefits it brings to the company. It should also target both the position and the company itself. The objective should not be longer than two sentences. Keep it short and sweet while keeping it relevant. For example:
A recent graduate of a highly-rated accounting program with an advanced understanding of popular accounting and tax software. Proficiency in the use of NetSuite, MS Excel, and QuickBooks for accounting and seeking a position with EQUF accounting firm that will allow them to use these skills.
If you don't have a lot of work experience, you should focus on your education and acquired skills. Stating that you are open to opportunities for advancement and career growth is also a good idea, as it shows the employer that you are in it for the long haul. Be sure to back up your target information with information on your resume, such as organizations you're a member of.
Get creative in the work experience section
Experience does not only include professional or paid work experience. It can also include course projects, volunteer work, leadership roles, freelance businesses, etc. 🇧🇷
Accomplishment statements (the bullet points under each position) in your work experience section are most effective when written in the Situation-Action-Results (SAR) format.
Using the SAR format to write your achievement statements ensures that the reader understands, in detail, what you did, why you did it, and what happened as a result of your actions. Giving specific quantifiers will make your work and your results even clearer.
Make your resume's education section shine
Most applicants, excluding finance and law, place their education section last. Tailor the education section of your syllabus to suit your circumstances, including the degree you're pursuing and the nature of your academic achievement. Your education section should include:
Relevant course completed
Your GPA (don't include this if your GPA isn't impressive)
Main areas of study
name of your school
the address of your school
Year of graduation (if applicable)
Any relevant honors or academic recognition, activities, courses, or other achievements you have earned during your education.
Examples:
The University of Oxford, 2010-2015
Bachelor of Arts in Creative Writing
Summa Cum Laude, Fulbright Scholar
Harvard University, United States
Bachelor of Applied Mathematics, May 2019
GPA 3.90/4.00; Class Rating: Top 10%
Highlight your skills
When hiring managers review your resume, they're looking to understand why you'd be a valuable addition to their company. Listing your skills is one of the best ways to communicate your ability to succeed in the position.
Include a mix of soft skills (meaning personal qualities or skills you can apply to any job, such as time management or problem-solving) and technical skills (meaning skills you've learned through experience and education, such as foreign languages ​​or software programs).
Be sure to list six to eight core skills, and customize that list based on the requirements and preferences you see in the job posting. You can mirror the terms of the job posting to increase the chances of your resume passing an applicant tracking system.
If you are having trouble identifying skills to include, you can ask yourself the following questions:
What successes and achievements have you achieved? What skills, traits, or abilities helped you do this?
Are there specific professional skills or traits in the field you frequently apply for? Do you also have these skills?
What skills do your family, friends or colleagues think you have?
Example:
Accounting software includes: NetSuite, MS Excel, and QuickBooks
Additional Skills: Problem solver, highly organized, excellent with time management.
Add other sections
The syllabus sections listed above are required, as are major college classes. However, if you really want to get the job, you need to stand out from your fellow undergraduates. Therefore, you must include some additional sections of the undergraduate curriculum. Here is a list of great additions to any undergraduate curriculum:
achievements and awards
interests and hobbies
Certifications for a resume
volunteer experience
Contests you have entered or won
Professional groups related to your degree
university associations
References
Undergraduate Resume Example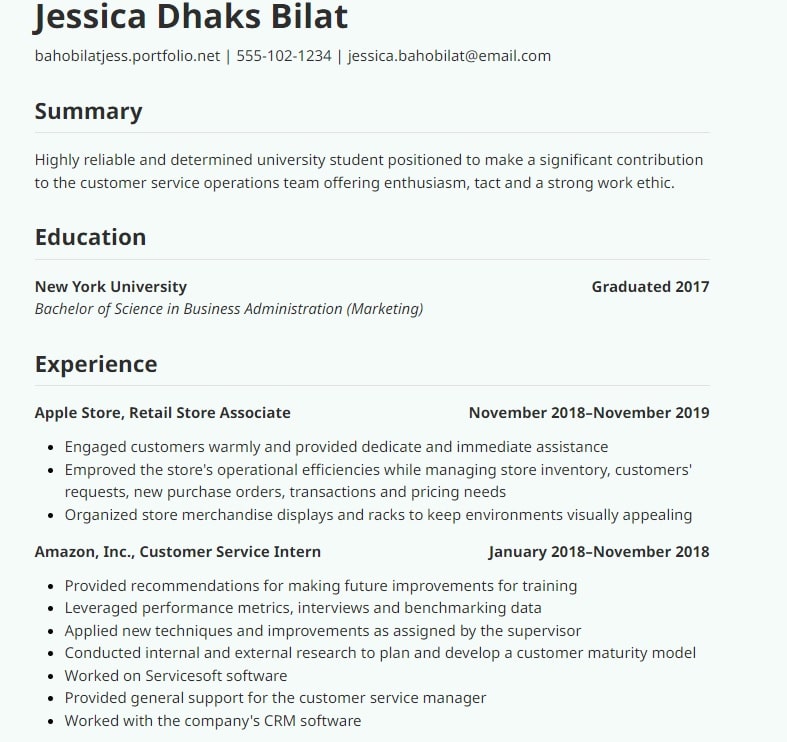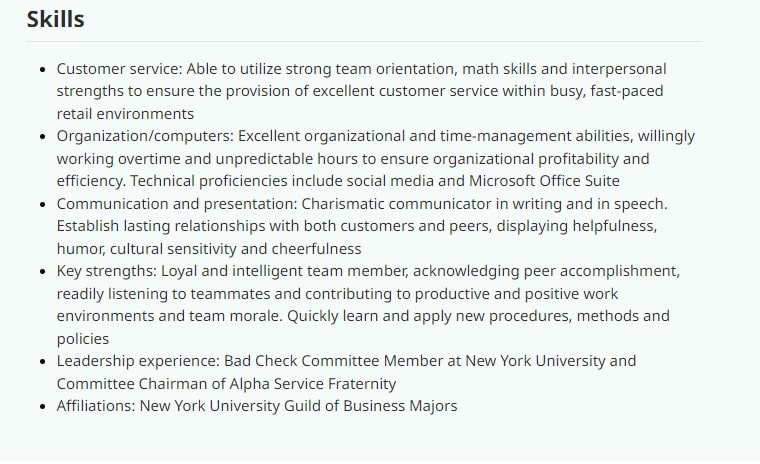 Undergraduate Resume Template
Use the following template to draft a successful undergraduate resume:
[First name] [Last name]
[Phone number] | [Email address] | [Professional portfolio or website]
Professional Summary
[Two to three sentences that highlight your years of experience, relevant skills, education or certifications and achievements as an entry-level professional]
Work Experience
[Job title] | [Employment dates] [Company name] | [City], [State]
[Job duty]
[Job duty]
[Job duty]
[Job title] | [Employment dates] [Company name] | [City], [State]
[Job duty]
[Job duty]
[Job duty]
Education
[Degree], [Major] | [Date of graduation] [Name of School or University]
[Campus involvement]
[Campus involvement]
Skills
[Relevant skill] | [Relevant skill] | [Relevant skill] | [Relevant skill] | [Relevant skill]